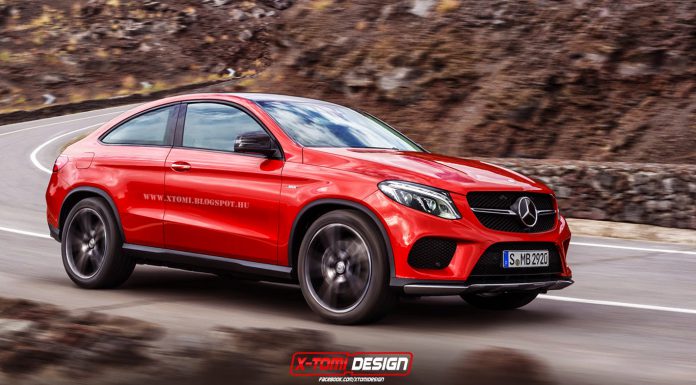 In years gone by, the coupe nameplate was only attached to true, two-door sports cars. Now however, automakers label anything from four-doors with extended rooflines as coupes and just recently, the Mercedes-Benz GLE Coupe was revealed and despite what the name may suggest, it is in fact a four-door SUV designed to rival the BMW X6. But how would the GLE Coupe look if it was in fact a three-door coupe?
To give us an idea, X-Tomi Design has rendered just that by removing two doors and modifying the roofline to a more traditional coupe shape. Let us know below what you think of the results below!
As for the real Mercedes-Benz GLE Coupe, it has been inspired by the Concept Coupe unveiled earlier in the year. With this in mind, the car features a flowing roofline which stretches back to a steeply raked rear window and a relatively high tailgate. As for the initial 2015 Mercedes-Benz GLE450 AMG Coupe which is the first model from the new AMG Sport line, it is adorned with a new AMG bodykit complete with 21-inch wheels. Other models in the GLE Coupe lineup will be available with 20-inch and 22-inch wheels.
Beyond the styling, the 2015 Mercedes-Benz GLE450 AMG Coupe is powered by a twin-turbocharged 3.0-litre V6 engine delivering a total of 367 hp and 383 lb-ft of torque. Other variants previewed thus far are the Mercedes-Benz GLE350d 4Matic with 258 hp and 457 lb-ft and the GLE400 4Matic with the same twin-turbo 3.0-litre V6 as the GLE450 AMG Coupe but instead pumping out 333 hp and 354 lb-ft of torque.