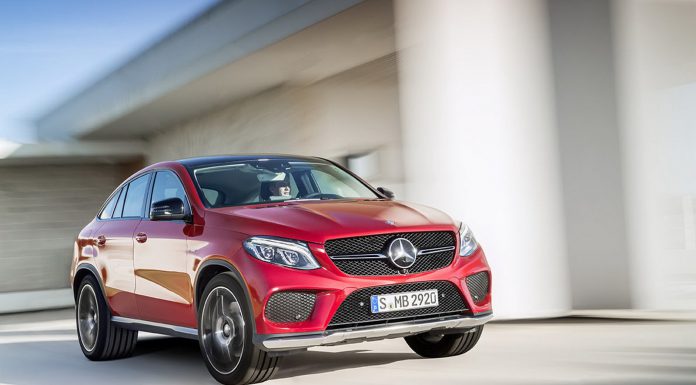 After being testing on numerous occasions in recent months, the 2015 Mercedes-Benz GLE Coupe has been officially revealed with the first model out of the gate being the Mercedes-Benz GLE450 AMG Coupe.
Set to rival the BMW X6, the Mercedes-Benz GLE Coupe's design is heavily inspired by the Concept Coupe unveiled earlier in the year. With this in mind, the car features a flowing roofline which stretches back to a steeply raked rear window and a relatively high tailgate. As for the initial 2015 Mercedes-Benz GLE450 AMG Coupe which is the first model from the new AMG Sport line, it is adorned with a new AMG bodykit complete with 21-inch wheels. Other models in the GLE Coupe lineup will be available with 20-inch and 22-inch wheels.
Beyond the styling, the 2015 Mercedes-Benz GLE450 AMG Coupe is powered by a twin-turbocharged 3.0-litre V6 engine delivering a total of 367 hp and 383 lb-ft of torque. Other variants previewed thus far are the Mercedes-Benz GLE350d 4Matic with 258 hp and 457 lb-ft and the GLE400 4Matic with the same twin-turbo 3.0-litre V6 as the GLE450 AMG Coupe but instead pumping out 333 hp and 354 lb-ft of torque.
The 2015 Mercedes-Benz GLE450 AMG Coupe features the dynamic select variable control system which provides five different driving modes for the nine-speed transmission. They are Individual, Comfort, Slippery, Sport and Sport+. Individual mode enables the driver to create their own personal driving preferences, Comfort provides feel-good parametres to provide effortless cruising while Slippery optimises handling on surfaces with low friction such as snow or ice. Finally, Sport and Sport+ provide sporting characteristics for the SUV.
For the Mercedes-Benz GLE350d and GLE400, a torque split of 50:50 between the front and rear axles is featured while the GLE450 AMG Coupe utilises a 40:60 torque split. Elsewhere, the Mercedes-Benz GLE450 AMG Coupe includes the company's latest Airmatic air suspension system with the Active Curve System with active roll stabilisation coming into effect when the Sport and Sport+ modes are selected. The Airmatic system is available as an option on other GLE Coupe versions.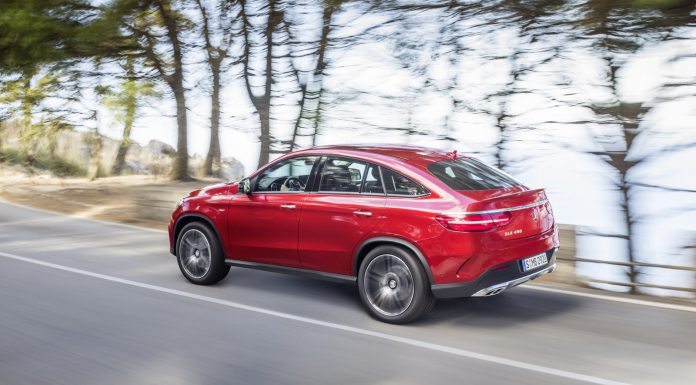 Discussing the car, board member responsible for Group Research and Mercedes-Benz Cars Development, Thomas Weber said, "Our GLE Coupé combines typical coupé attributes, such as sportiness, dynamism and agility, with the confident presence, versatility and robustness of an SUV."
The 2015 Mercedes-Benz GLE Coupe will debut at the Detroit Motor Show 2015 in January.