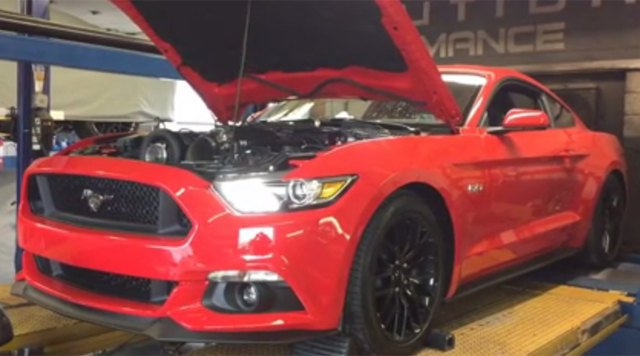 Just a couple of months after customer deliveries of the 2015 Ford Mustang started, one particularly eye-catching red example has been extensively upgraded by Evolution Performance and now delivers a truly absurd 900 hp at the rear wheels!
[youtube]https://www.youtube.com/watch?v=pWPfKfuGbjg#t=38[/youtube]
All of that extra power has been achieved with the fitment of a custom V-7 JT Vortech supercharger, new fuel injectors from Injector Dynamics, a TiAL Sport 50 mm blow-off valve, an air-to-water intercooler as well as a new intake plenum and custom exhaust system including American Racing headers and a new X-Pipe.
For now, this is the first supercharged sixth-generation Mustang GT we've seen from an aftermarket tuner but it certainly won't be the last. In the near future, Ford itself is expected to begin offering ultra-high performance supercharged Mustang variants!