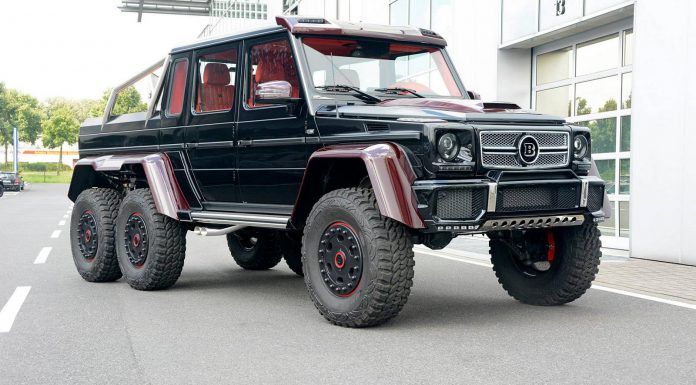 Another beastly Brabus B63S 700 6×6 based on the Mercedes-Benz G63 AMG 6×6 has just rolled out of the German tuner's factory and this particular example is possible the most eye-catching example to date.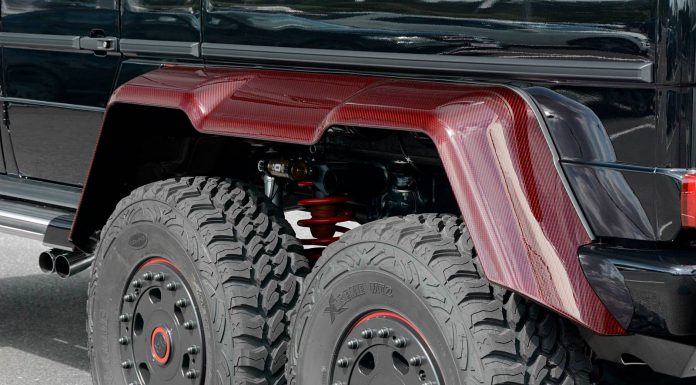 What makes this particular Brabus B63S 700 6×6 so special is the fact that it is painted gloss black and features a selection of red carbon fibre accents. These include elements of the bonnet, the ultra-wide fenders, wing mirrors and roof and each give the car an even more extreme look. The red and black theme is then continued into the cabin with red and black leather found throughout.
As a reminder, the Brabus B63S 700 is powered by a 5.5-liter V8 Biturbo with Brabus' 700 engine tuning. It produced 544 hp before Brabus performed the modifications, now it has 700 hp and 960 Nm of torque, routed to all six-wheels. The four ton goliath sprints from rest to 100 km/h in just 7.4 seconds. The top speed is limited electronically to 160 km/h (100 mph) due to the 37-inch off-road tires!
The modifications made to the Brabus B63S 700 include two special turbochargers with larger compressor units and higher boost pressure, a Gold Heat Reflection cover for the intake and charge-air pipes, special high-performance metal catalysts with 75-mm (2.9 in.) downpipes, a stainless steel sports exhaust system and a new mapping for the engine management system.