At the recent Essen Motor Show 2014 which we covered, a particularly interesting road-legal racer was quietly unveiled. Dubbed the Fahlke Larea GT1 S12, the German creation boosts performance figures which really have to be seen to be believed.
For starters, the Larea GT1 S12 is powered by a supercharged 7.2-litre V8 engine delivering 1242 hp and 1180 lb-ft of torque. Despite the size of the engine, the entire Fahlke Larea GT1 S12 tips the scales at just over 900 kg (2000 pounds) meaning it has a power-to-weight ratio easily eclipsing that of the Koenigsegg One:1 and Hennessey Venom GT. Mated to the S12's V8 engine is a six-speed manual transmission with all 1242 hp being funnelled through the rear wheels with a limited-slip differential.
With these in mind, Fahlke claims that the car can reach 100 km/h from a dead stop in just 2 seconds as well as 200 km/h in a mind-blowing 5 seconds flat. As for the top speed, it is claimed to be in excess of 400 km/h.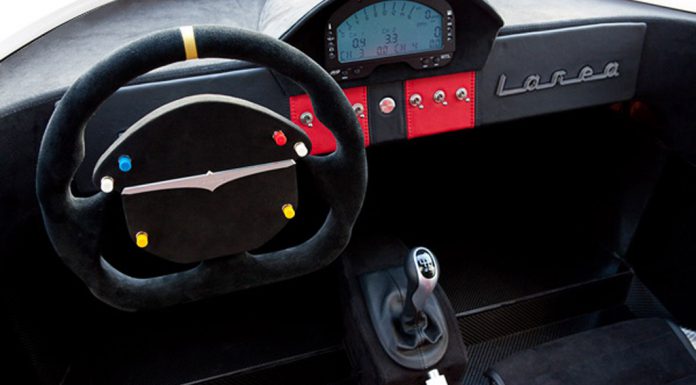 Elsewhere, the GT1 S12 is built around a carbon fibre monocoque complete with chromium molybdenum steel subframes. To save weight further, the S12 also makes use of carbon fibre body panels as well as lightweight forged aluminium wheels. These wheels measure 18 inches in diameter at all four corners and are complete with exceptionally wide 285 tyres at the front and 335 tyres at the rear. Braking is provided by Brembo carbon ceramics at all four corners with six-piston calipers at the front and four-pot calipers at the rear.
Three other variants of the Fahlke Larea GT1 are already available. These are the S7 with 542 hp, the S9 EVO complete with 710 hp and the S10 delivering 990 hp.