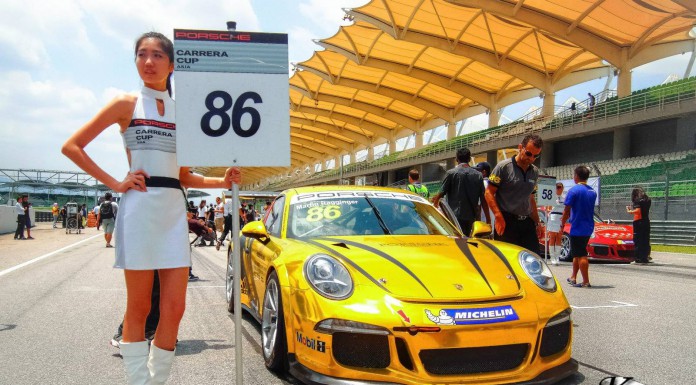 An all-new chapter in the Porsche Carrera Cup Asia's 12-year history began with the Rounds 6&7 qualifying session, held for the first time ever at the iconic Fuji International Speedway.
The first Porsche Carrera Cup Asia series stop on Japanese soil, and held in conjunction with the Porsche Carrera Cup Japan, saw then-series leader Earl Bamber dominate both rounds, beginning with the qualifier. The New Zealander, with a time of 1:54.635, was the only one in the entire field to lap at less than 1 min 55 seconds, placing him firmly in pole position for both races.
Lining up alongside Bamber would be Martin Ragginger, who as of this series stop was the overall championship leader, with Bamber having missed Rounds 4&5 at Zhuhai International Circuit. Following Bamber and Ragginger would be Alexandre Imperatori of PICC StarChase and Team Jebsen's Rodolfo Avila for Round 6, with Zheng Tong Auto's Zhang Da Sheng taking Avila's P4 start for Round 7.
Qualifying fifth-fastest overall, Class B leader Alif Hamdan took the pole for Class B, followed by non-professional driver Hiroshi Hamaguchi and Dorr Havelock Racing's Yuey Tan in Class B's P3 starting position.
After an intense Round 6 race in the wet under the shadow of Japan's Mount Fuji, Earl Bamber claimed victory ahead of championship leader Ragginger, who finished in P2 to leave just 9 points between him and the LKM Racing Team driver.
After a 30-second penalty was handed to Ragginger, Alif Hamdan became only the second Class B driver in the Porsche Carrera Cup Asia's history to finish on the overall podium, taking a second-place victory followed by Zhang Da Sheng in third.
Hamdan's second place on the overall podium placed him firmly in the top spot for the Class B podium, followed by OpenRoad Racing's Francis Tjia with Yuey Tan occupying third place.