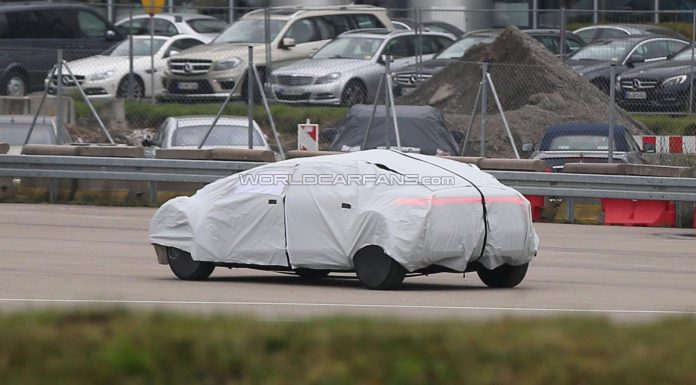 Not too long ago, the upcoming concept car from Mercedes-Benz set to debut at the Consumer Electronics Show in January, was spied testing. Now further spyshots of the car have emerged with this particular shot showing the tail-end of the futuristic concept for the very first time.
One key design element apparent on the concept is the prominent LED taillight which stretches across the entirety of the rear in a similar fashion to the Concept Coupe SUV from earlier this year. Additionally, the shot reveals the flared wheel arches once again.
When recently discussing the car with Autocar, Mercedes-Benz design director Gorden Wagener said, "We have already shown part of our concept's proposed interior, and we will show a vision for the whole exterior soon. There is no doubt it is an exciting opportunity, but at this stage we are simply exploring possibilities, not confirming how it will be.
"I'm not very keen on process design – finding a separate face for an electric car or a fuel cell car or an autonomous car. A self-driving Mercedes might look different from our normal range, but it certainly doesn't have to," he said.
Just over a week ago, Mercedes-Benz previewed the interior of the radical concept. In the cabin, the new Mercedes-Benz concept features four seats which face each other. The front two swivel and can also face forward in the fully autonomous car. Additionally, a central table is featured in between the four seats making for a mobile living room. Elsewhere, there is wood across the floor, a glass roof as well as high-quality leather throughout.
[Via World Car Fans]