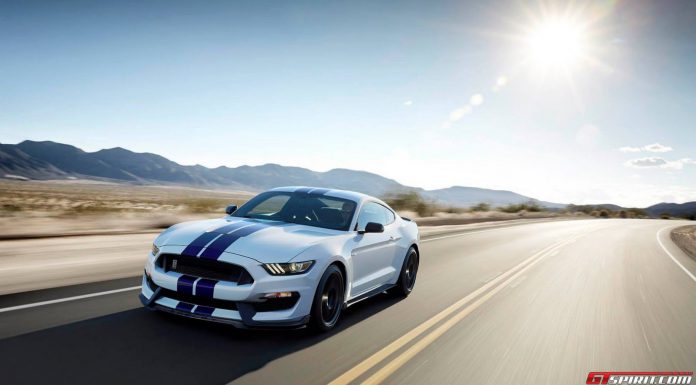 At the Los Angeles Auto Show 2014, Ford revealed the 2015 Ford Mustang Shelby GT350. As the first track-tuned variant of the 2015 Mustang, the car was reasonably assumed to be Ford's answer to the all-conquering Chevrolet Camaro Z/28. However it has emerged that an even more extreme variant is on the cards set to act as a true rival to the Z/28.
According to Road and Track, the car will be dubbed the Shelby GT350R and will officially launch at the Detroit Motor Show 2015 in January. Differentiating the Shelby GT350R from the GT350 will be beefed up brakes, a tweaked aerodynamics package as well as stickier tyres amongst a selection of other changes.
As for the existing 2015 Ford Mustang Shelby GT350, it uses a high-revving 5.2-litre V8 engine promising to deliver over 500 hp and 400 lb-ft of torque. This new engine uses a flat-plane crankshaft as rumoured to help the engine breathe easier. When it is all said and done, this new 5.2-litre V8 is the most powerful naturally aspirated Ford production car engine ever revealed.
As you would expect, power is then sent to the rear wheels through a six-speed manual transmission. A tweaked Torsen limited-slip differential is also utilised. As of yet, Ford has yet to release performance details about the new Mustang Shelby GT350 but these could come at the L.A. Auto Show itself or at a later date.
To help bring the mighty new GT350 to a stop, the car utilises six-piston Brake calipers at the front clamping down on 394 mm two-piece cross-drilled iron brake discs. At the rear, four-piston Brembos are found alongside 380 mm discs. Another important aspect of the 2015 Ford Mustang Shelby GT350 is its MagneRide dampers. The car also includes an injection-moulded carbon fibre composite grille opening and shock tower brace to stiffen up the chassis to provide extra rigidity and handling performance.
[Via Road and Track]