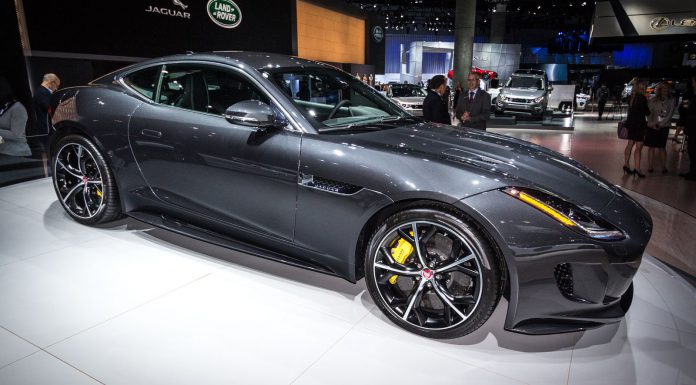 Jaguar is celebrating a plethora of new additions to the F-Type range at the Los Angeles Auto Show 2014 with the most notable being the debut of the Jaguar F-Type R AWD Coupe. The car is the halo variant of the F-Type's new all-wheel drive range and will reach the market next year. Having driven the rear-wheel drive R Coupe in the past, we just had to see it up close! The pictures in the gallery also show the F-Type V8 S AWD.
Beneath the skin, the Jaguar F-Type R AWD Coupe uses the same engine as the rear-wheel drive variant. That means it features a supercharged 5.0-liter V8 engine producing an insane 550 hp. Consequently, Jaguar promises the F-Type R Coupé can sprint from 0-100 km/h in just 3.9 seconds compared to the 4.2 second sprint of the RWD variant.
The supercharged engine powering the Jaguar F-Type R AWD Coupe not only produces immense power, it also has a few nice features up its sleeve including spray-guided direction injection as well as dual independent variable cam timing. The lightweight aluminium block has then been stiffened with cast-iron liners and cross-bolted main bearing caps. Just like all other F-Type Coupé and Convertible variants, the engine is mated to a ZF Quickshift eight-speed transmission driving the rear wheels.

For more about the 2015 Jaguar F-Type R AWD Coupe, see our dedicated post. For more from the Los Angeles Auto Show 2014, head on over to our dedicated news channel!