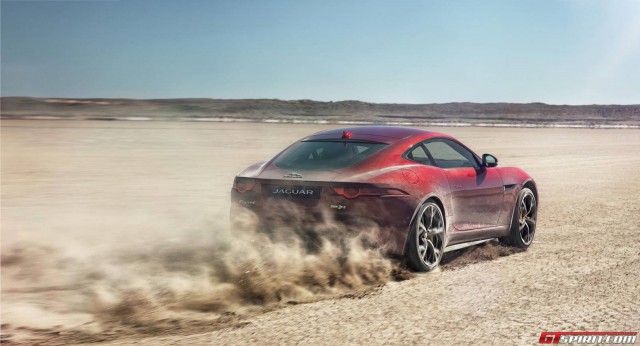 Jaguar have unveiled the highly anticipated Jaguar F-Type R AWD Coupe. The big reveal took place in South Africa of all places! The official unveil coincides with the launch of a partnership with the British World Land Speed Record Team who plan a World Land Speed Record attempt in 2015 with the Bloodhound SSC. The official launch took place at the Hakskeen Pan in the Northern Cape, South Africa.
The Jaguar F-Type R AWD Coupe will make its official debut at the Los Angeles Auto Show 2014 later this month together with a number of other performance enhancements for the rest of the range. The addition of all-wheel-drive is one of a number of performance enhancements for the Jaguar F-Type range which will grow from six to 14 models in 2015.
Beneath the skin, the Jaguar F-Type R AWD Coupe uses the same engine as the rear-wheel drive variant. That means it features a supercharged 5.0-liter V8 engine producing an insane 550 hp. Consequently, Jaguar promises the F-Type R Coupé can sprint from 0-100 km/h in just 3.9 seconds compared to the 4.2 second sprint of the RWD variant.
The F-Type R AWD has already been put to good use testing the communications systems of the Bloodhound SSC. It was driven head-to-head at top speed with a similarly equipped jet flown at 500mph and just 50 feet above the ground. The combined closing speed of almost 700mph enabled the test to simulate conditions similar to those in Andy Green will experience 12 months from now.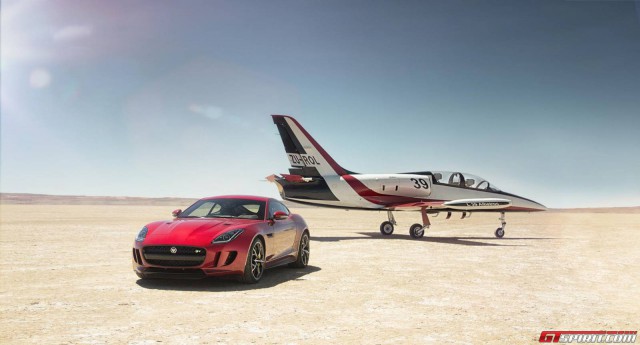 The current World Land Speed record stands at 763.035mph and was set by Andy Green in Thrust SSC in 1997. Andy will also drive the Bloodhound Supersonic car.
Ian Hoban, Vehicle Line Director, Jaguar said, "Our target with engineering the all-wheel drive F-TYPE was to maintain the engaging rear-drive character that's so important to Jaguar sports cars, yet offer even greater dynamic capability. The result is a controllable, exploitable and blisteringly fast performance car in all weather and road conditions."
Bloodhound Project Director and former World Land Speed Record holder, Richard Noble said, "We are absolutely delighted to announce Jaguar as a Main Partner to the Bloodhound Project. This is a very fine match – Jaguar is very strong on innovation and with its huge drive in advanced technology, education and motorsport track record, we have the perfect partner. Together we have developed outstanding inter-team synergy and this is a very special relationship. We are proud to carry the Jaguar branding on Bloodhound SSC."