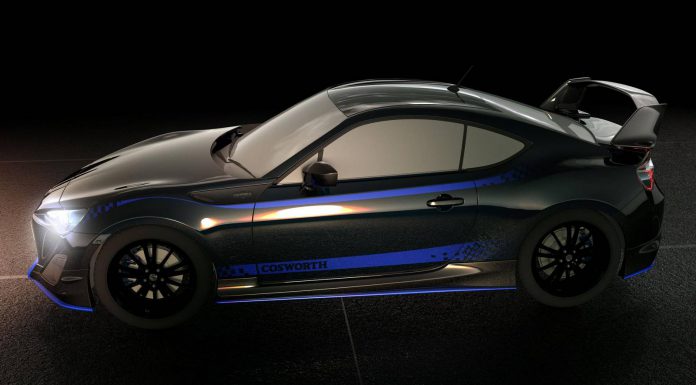 A few months ago, Cosworth revealed the first details about its tuning packages for the Toyota GT86/Subaru BRZ/Scion FR-S trio. At the time, details about the Stage 1 Power Package were announced with it lifting power from 200 hp to 230 hp. Now Cosworth has released specs of its Stage 2 Power Package and as you'd imagine, it is even more potent.
The Stage 2 Power Package for the FA20 2.0-litre four-cylinder engine delivers an impressive 280 hp thanks to the installation of a supercharger, intercooler and a reworked intake manifold. The upgrades are then completed with a remap of the ECU.
As for the Stage 1 Power Package, it actually comes in four different stages. The Stage 1.0 kit adds 15 hp, the Stage 1.1 ups that to 20 hp, the Stage 1.2 delivers 25 hp over the standard car and finally, the Stage 1.3 kit adds 30 hp bringing the total figure up to the previously mentioned 230 hp.
Beyond the upgrades, one of the most important aspects of the Cosworth upgrades is that they're offered under the standard factory warranty which is believed to be a first in the aftermarket tuning scene.
When recently discussing this, Cosworth Group chief executive Hal Reisiger said, "Cosworth has significantly altered its approach to performance aftermarket. We are now able to supply completely validated solutions – as an entire system – to guarantee reliability and performance. This is a huge step change and one that will enable Cosworth to become the performance upgrade partner of choice for car manufacturers, as well as tuning professionals and enthusiasts around the world."