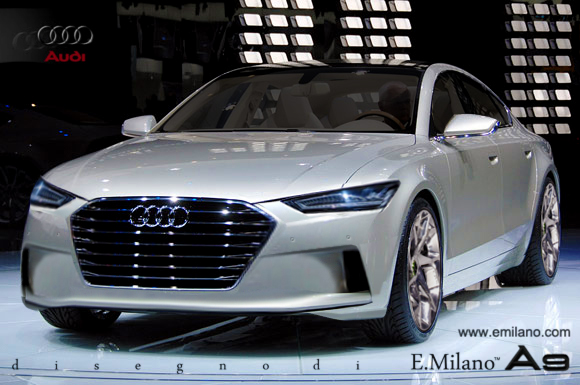 Just a couple of days ago, Audi dropped a rather revealing teaser video of its upcoming A9 Concept set to debut at the Los Angeles Auto Show 2014. On the back of this, automotive renderer Evren Milano has decided to render how the A9 Concept could look when the covers are lifted.
Immediately it is obvious that this render isn't entirely accurate as it is missing some of the key creases previewed by the teaser. Additionally, the headlights appear to be thinner. Besides these small issues, it could prove quite accurate with the pointed front grille one of the standout design features of the Audi A9 Concept.
In case you didn't know, the new concept is set to preview a new styling language for the German marque with the company's new head of design, Marc Lichte, behind the A9 Concept's design.
While recently discussing the car with Auto&Design, Lichte said, "Audi here is placing the accent even more firmly on the sporting dimension, something that will characterise the whole upcoming generation of cars. The new models will be immediately recognisable as Audi's, starting with the signature single frame grille which will, however, also represent a major step forward in terms of sportiness".
[Via Evren Milano]