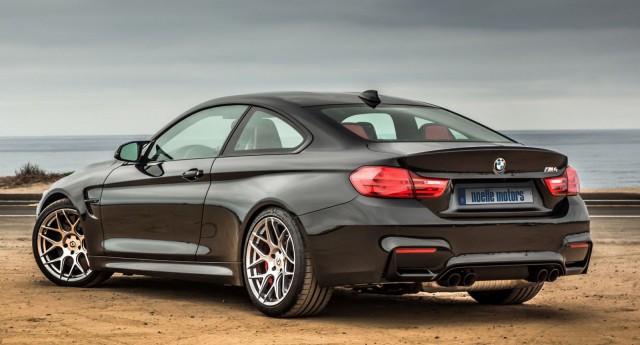 Small German tuning company Noelle Motors has just announced its selection of performance upgrades for the brand new BMW M4. Noelle Motors joins an ever-increasing list of tuners beginning to fettle with and offer packages for the latest, front-engined, rear-wheel drive German sports car.
Noelle Motors offers three tuning kits for the M4. The first one sees power boosted to a very respectable 517 hp and 479 lb-ft of torque. By comparison, the twin-turbocharged 3.0-litre inline-six cylinder engine of the OEM M4 pumps out 425 hp and 406 lb-ft of torque. Additionally, the Stage 1 package sees the removal of the top speed limiter helping the car hit over 300 km/h (186 mph).
As for the Stage 2 upgrade offered by Noelle Motors, it delivers an even more potent 540 hp and 487 lb-ft of torque and includes a new set of sport catalysts. Like the Stage 1 kit, this one also sees the removal of the top speed limiter.
Last but not definitely not least is the Stage 3 kit. It delivers a total of 560 hp as well as 494 lb-ft of torque thanks to some extensive engine tuning and the fitment of a new exhaust system. It will hit a top speed of 325 km/h (202 mph).