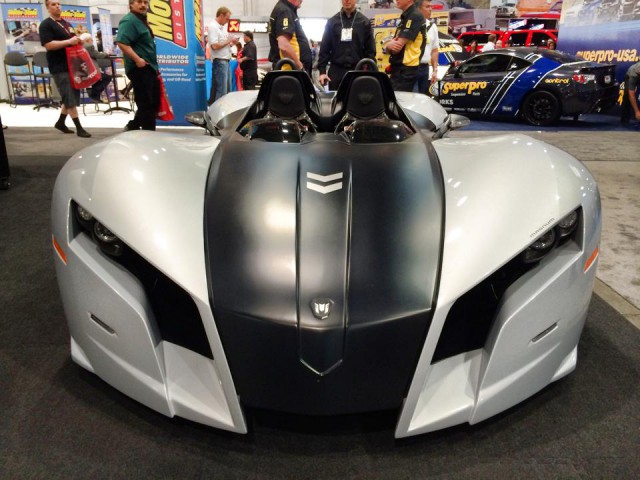 Introduced late last year, the Canadian Magnum Mk5 sports car combines dramatic styling with a potent engine and light dry weight. The car is currently on display at the ongoing SEMA 2014 show in all of its exclusive glory.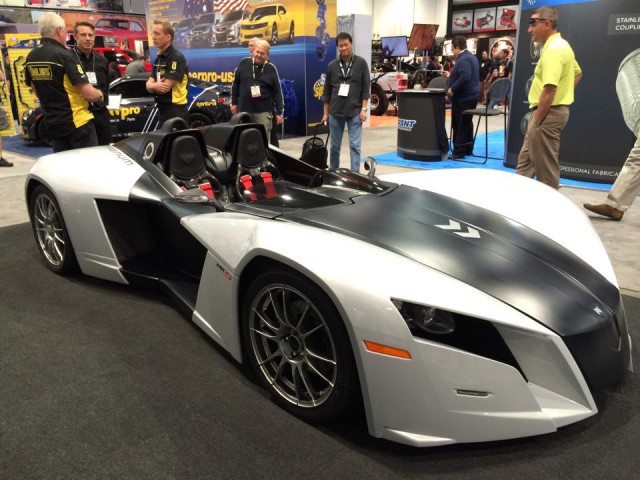 Powering the Magnum Mk5 sports car is a small four-cylinder motorbike engine from the potent Suzuki Hayabusa. This engine has been placed in the rear Porsche 911 style and thanks to some fine-tuning now delivers 247 hp and revs all the way to 11,000 rpm. Mated to this motorbike engine is a fast shifting six-speed sequential gearbox sending all the power to the rear wheels. When it is all said and done, the Magnum Mk5 can sprint from 0-100 km/h in just 3.2 seconds and onto an impressive top speed of 150 mph.
Obviously such a small engine couldn't propel a regular car to such speeds, but it is made possible in the Mk5 thanks to the Canadian sports car's featherweight body. All told, the Magnum Mk5 is constructed from carbon fiber bodywork and tips the scales at just 545 kg dry. That results in a power to weight ratio of 460 hp per tonne. Fuel is held in a small 35-liter tank while braking is performed potently by a set of four-piston calipers and ventilated discs at all four corners.
[Via 1320Video.com]