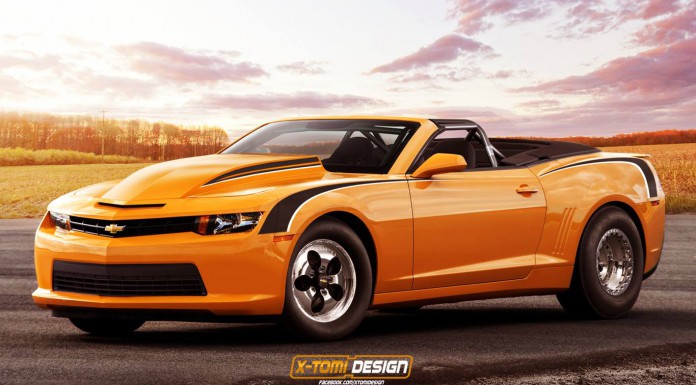 Late last year, the 2014 Chevrolet COPO Camaro drag racer was introduced. Strictly created as a hardtop, the COPO Camaro is the perfect tool for Camaro enthusiasts who love nothing more than heading out onto the drag strip.
While the car is indeed very impressive as is, X-Tomi Design has decided to render how a potential Convertible version would look. While such a variant would certainly upset the rigidity of the car as well as its aerodynamics, the looks are equally as eye-catching.
As for the real thing, just 69 units are pinned for the production line each of which are eligible to compete in the NHRA Stock Eliminator and Super Stock drag racing classes. As with the previous COPO Camaro, Chevrolet offers prospective customers the choice of a selection of different powerplants depending on how much power and speed the want and of course how much they are willing to spend.
The first available engine is a massive 7.0-liter V8 powertrain. Next, the 2014 Chevrolet COPO Camaro is available with a 5.7-liter V8 engine joined by a 2.9-liter Whipple supercharger. Finally, two different 6.5-liter V8 engines are available for an 'entry-level' price.
[Via X-Tomi Design]