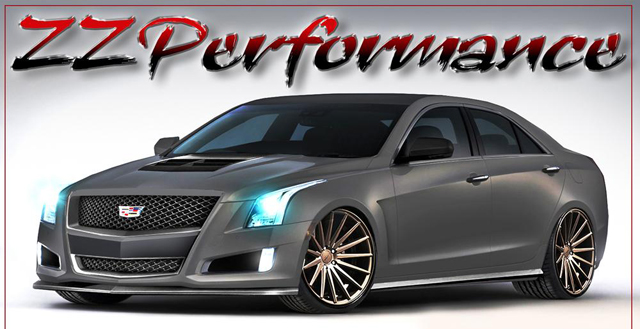 According to the latest word on the street, the brand new Cadillac ATS-V will debut at next month's Los Angeles Auto Show 2014. Not dissuaded by the fact that Cadillac is set to soon release its most powerful ATS variant, the crew at ZZ Performance has previewed its upgraded ATS before its debut at SEMA 2014.
Whereas the Cadillac ATS-V will deliver approximately 425 hp when it hits the market in an attempt to rival the BMW M3, ZZ Performance's ATS promises significantly more power. As a matter of fact, ZZ Performance has equipped the car's 2.0-litre four-cylinder engine with a beefed up turbocharger, twin-scroll manifold and high-flow downpipe. Alongside the inclusion of a brand new intercooler, cat-back exhaust and the obligatory tweaked ECU, ZZ Performance claims it has managed to extract 600 hp from the small engine.
Elsewhere, the car has been adorned with a new aerodynamic bodykit featuring a revised front fascia and splitter, a new bonnet with air extractors, new side skirts and aftermarket wheels. Finally, the ZZ Performance Cadillac ATS will roll on new coilovers, be fitted with high-performance sway bars from Eibach and stop thanks to new brakes.