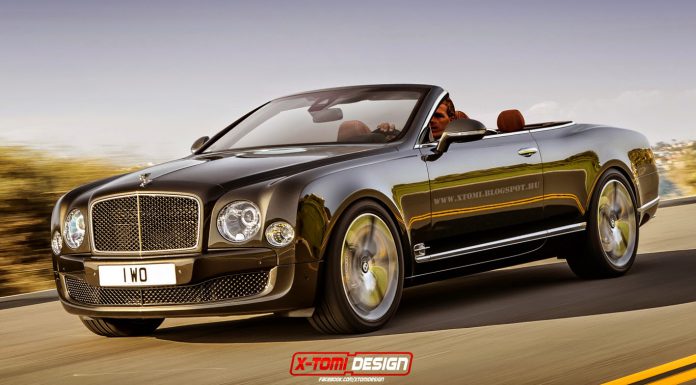 At the recent Paris Motor Show 2014, Bentley introduced the potent Mulsanne Speed. As the most performance-oriented variant of the Mulsanne, the Speed combines the British firm's engineering prowess perfectly with their exceptional eye for detail and luxury. If the firm decided to create a convertible variant of the Mulsanne Speed however, how would it look?
To find out, X-Tomi Design has created the following rendering. Not only has the fixed roof been removed but two of the doors have been scrapped. The results are very impressive but will such a car eventuate? Well it is hard to say but considering Rolls-Royce is working on a droptop version of the Wraith, there's a possibility Bentley could follow suit with a Mulsanne Speed Convertible.
Under the hood of the existing Bentley Mulsanne Speed, the company has tweaked the car's 6.75-litre twin-turbocharged V8 engine to now deliver 530 hp and an even more impressive 811 lb-ft of torque from just 1750 rpm. To achieve these gains, Bentley has fitted a new combustion chamber, inlet ports, fuel injectors, spark plugs and changed the compression ratio. Additionally, new variable valve timing and optimised turbocharger control has been implemented. Consequently, the 2015 Bentley Mulsanne Speed hits 100 km/h in a mere 4.9 seconds as well as a top speed of 305 km/h.
Beside the new engine is a recalibrated transmission to make the driving experience more involving. The new systems have been developed with the help of keen drivers and professional chauffeurs. A new 'S' mode comes fitted as standard to the Mulsanne Speed with it keeping the revs above 2000 rpm to ensure the turbochargers are always ready for action.
[Via X-Tomi Design]