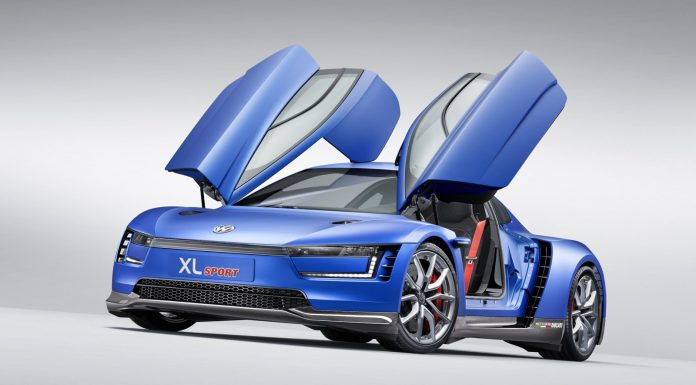 A year or so ago, Volkswagen unveiled the worlds most economical car, the XL1 that would deliver a staggering 1-litre/100 kilometre fuel efficacy figure. The problem was that the 2-cylinder hybridised diesel took an unbelievable 13-seconds to hit 100 km/h and would run out of puff at just 160 km/h. Now Volkswagen have taken the wraps off the XL Sport, and it has close to 200 bhp. The power comes courtesy of another 2-cylinder engine, this time from a "Superquadro" Ducati 1199 Superleggera super bike and it will rev to a dizzying 11,000-rpm.
The 197 bhp XL Sport uses the same lightweight carbon-fibre structure of the XL1 on which it is based, but looks a lot more exciting courtesy of of the addition of a number of aggressive sporty parts including and electrically powered rear wing and a host of ducts and vents. This lightweight speed machine will now hit 100 km/h in under 6-seconds and will blitz to a top speed of 270 km/h, quite an achievement considering the motorcycle engine only churns out 99 pound feet of torque. This efficient of power is partly down to the cars transmission, a seven-speed dual-clutch DSG automatic.
Only 250 of XL Sports are due to be built, the very first car that is on display at the Paris Motor Show is also the 200 millionth car to roll of the VW production, quite the milestone. The car may not be able to compete with the supercars of today in terms of pace, but its looks sure will turn heads, as will the sound of its Ducati engine spinning at 11,000-rpm!