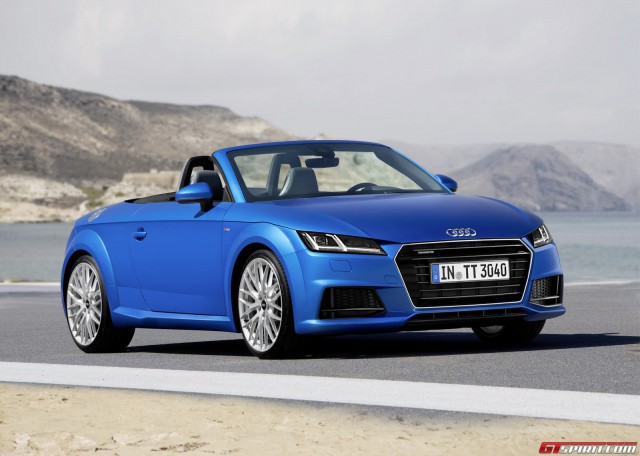 With the Paris Motor Show 2014 just one week away, a wrath of new vehicles are being revealed prior to the show kicking off. The latest are the 2015 Audi TT Roadster and TTS Roadster. As you'd expect, both models remain extremely similar to their hardtop counterparts of which sales began earlier this year.
First off, the exact same engines as the TT coupe are available in the 2015 Audi TT and TTS Roadster variants. Consequently, the entry-level model utilises a 2.0-litre TDI Ultra diesel engine delivering a total of 181 hp as well as 280 lb-ft of torque. While these figures aren't revolutionary, the diesel equipped Audi TT models are more focused on fuel economy with the small engine sipping through just 4.3-litres of petrol per 100 km. That equates to 54.7 mpg in the United States of 65.7 mpg in the UK.
The next step up in the range of engines is the 2.0-litre TFSI. It delivers a total of 227 hp and 273 lb-ft of torque just like the 2015 Audi TT coupe. At the top of the range is the TTS Roadster compete with its thoroughly uprated 2.0-litre TFSI petrol engine. Tuned to deliver a total of 306 hp as well as 280 lb-ft of torque, the 2015 Audi TTS Roadster will sprint to 100 km/h in a respectable 4.9 seconds as well as an electronically limited top speed of 250 km/h.
As with the coupe models, the entry-level diesel powered TT Roadster is available solely in front wheel drive whereas the entry petrol equipped model can be fitted with an all-wheel drive system. The TTS Roadster is only available with the company's famed quattro all-wheel drive system by comparison. Finally, both the petrol engine powered TT Roadster variants can be optioned with a six-speed manual transmission or alternatively, a dual-clutch S tronic gearbox also featuring six gears.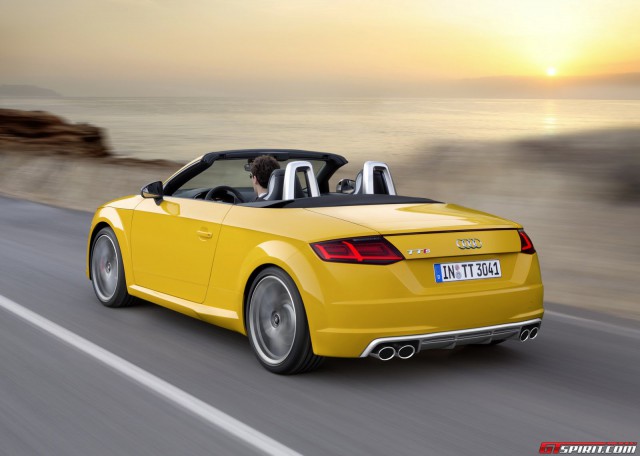 While convertible hardtops are continually increasing in popularity, both the new 2015 Audi TT Roadster and TTS Roadster versions utilise more traditional fabric tops. It can be finished in either black or titanium grey with the frame utilising aluminium ,magnesium, steel and plastic in its construction. Compared to the previous-generation TT Roadster's roof, Audi says this new design saves 3 kg in weight.