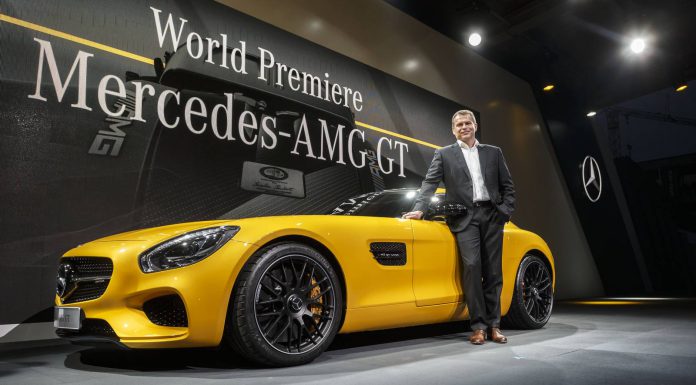 Just a few hours ago, the eagerly anticipated 2015 Mercedes-AMG GT was revealed. As arguably the most exciting car to debut this year, Mercedes-Benz made sure to launch the AMG GT in style and they did just that.
The German marque invited the world's automotive press to Stuttgart for a special reveal and we're happy to share the following pictures from the event with you. As you can see, the car presented is painted yellow and the chassis and drivetrain components of the new front-engined German sports car were also displayed during the unveiling.
The GT is the second sports car developed entirely in-house by Mercedes-AMG (the SLS AMG being the first). It gets a front mid-engine layout. The engine of choice is a newly developed AMG 4.0-litre V8 biturbo unit with 462 hp in GT specification. A GT S model will also be available producing 510 hp. The engine meets the Euro 6 emissions standard, including the maximum particulate emissions level that takes effect in 2016.
Zero to 100 km/h is possible in 3.8 seconds with a top speed of 310 km/h. The V8 is particularly ground breaking for its use of dry sump lubrication and its integrally mounted turbochargers. The transmission is a seven-speed dual clutch unit fettled by AMG engineers.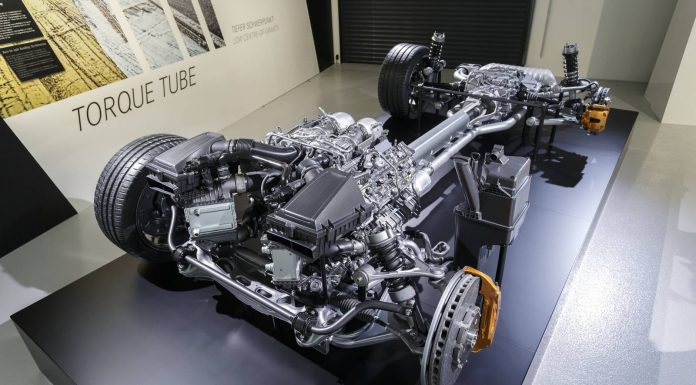 Weight is just 1,540 kilograms and weight distribution is spread 47:53 percent, front to rear. The power-to-weight ratio of 3.3 kilograms per hp sounds pretty impressive for a car of this class. The GT also manages fuel consumption of 9.3 litres per 100 kilometres (NEDC combined).
As you would expect from any front engined GT car, the Mercedes-AMG GT gets a long bonnet with its pronounced powerdome. The cabin sits far back with a large tailgate and broad rear end. The design curves are arching and give the car a muscular appearance. The GT deliberately avoids lines in the shoulder region. The only line is one lower down, picked up again in the rear bumper, which stretches the body and makes it appear lighter. Overall it is a sleek design with little to interrupt the design lines.