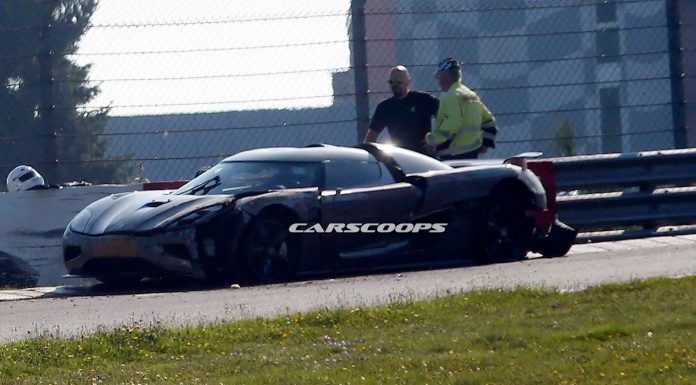 In recent days, a potent Koenigsegg Agera R prototype has been spied testing hard at the Nurburgring in a possible lap record attempt. Unfortunately however, that test mule recently crashed heavily during testing with both occupants injured in the impact.
According to spy photographers on the scene, both the driver and passenger were taken to hospital immediately after the crash with the driver most severely hurt. It remains unclear just what injuries they sustained.
Based on the pictures, it appears as though the left hand side of the Agera R test mule hit the Armco barrier at high speed. The impact ripped off the carbon fibre wing mirror borrowed from the One:1 while also wrecking the carbon fibre wheels as well as much of the front end and rear clam shell.
Beneath the skin, the existing Agera R is fitted with a twin-turbocharged 5.0-litre V8 engine which runs 28 bar of pressure. On regular 95 octane fuel, it manages to deliver an exceptional 960 hp while on E85 bio-fuel, that power figure soars up to 1140 hp! Incredible though, the Agera R engines passes worldwide emissions standards as well as maintaining a 16mpg fuel economy rating. Power is routed to the rear wheels through a 7-speed dual clutch gearbox. It combines a dry and wet clutch system for ultra-quick shifts. It is lighter, faster and more reliable than similar gearboxes.
[Via Carscoops]