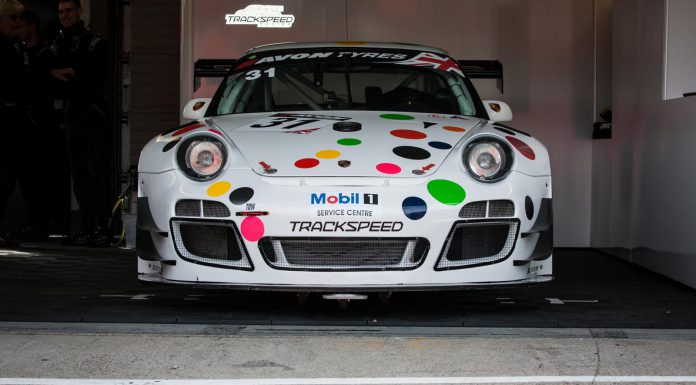 The penultimate round of British GT headed out to Brands Hatch with an impressive thirty-two car line-up. Prior to the event, many changes were announced to the series including new drivers and additions to teams.
The 888 team saw their entries increase to three BMZ Z4s with Jody Firth and Warren Hughes racing together and Lee Mowle racing alongside Ryan Ratclife who replaced former team-mate Luke Hines. Firth/Hughes were racing in the Trackspeed Porsche previously and this left the seat open to Trackspeed Founder David Ashburn and Porsche Factory Driver Nick Tandy to make a return.
Sir Chris Hoy had a new teammate of Jann Mardenbourgh, who was the 2011 GT Academy Winner. This is the third team-mate Hoy has had since the racing season started in April. Richard Lyons who drives the No 29 AF Corse Ferrari was unable to attend the event and was replaced by Matt Griffin. United Autosports also had a change in driver line up in their Audi R8. John McCullagh joined Matt Bell to stand in for Mark Patterson.
In GT4, Declan Jones returned in his BMW M3 with a new team-mate Jeff Wyatt and the car being run under BMW Specialist Geoff Steel Racing. The David Appleby Engineering Bentley did not compete in this round and had withdrawn from the remainder of the season.
This round's race was a two hour showdown with mandatory pit stop. Beechdean qualified on Pole for both the GT3 and GT4 Classes.
On the first lap current GT4 Champion No 46 Twisted Team Parker Ginetta spun off into the gravel. The car eventually made it back on track but was several laps down. The race was led by No 4 Oman racing Aston Martin from the start. The No 1 Aston Martin faced brake problems throughout the race day. With only fifteen minutes of race being completed the Aston Martin had spun on track an dropped down the order further into eighteenth. No 42 Ginetta Driven by Parfitt had to make an early pit stop after an early puncture. He then re-joined the race but was a lap or two down at that point.
The No 4 Aston Martin and No 63 Porsche continued to lead the race. With 20 minutes completed there was contact between a GT3 car believed to be No 38 Aston Martin and No 45 BMW driven by Wyatt which resulted in a pit stop and the car being pushed into the garage for repairs. The No 38 Aston Martin went off the track into the gravel but continued on with the race but dropping several places due to the incident. It was forced to later retire from the race and the impact stopped both teams race weekend.
With a quarter race distance completed the leading pack for GT3 was No 4 Aston Martin, No 63 Porsche, No 5 Aston Martin, No 8 BMW and No 79 BMW. The GT4 was being led by No 407 Aston Martin, No 49 Aston Martin and No 48 Ginetta in third.
The 888 BMW came off track after suspected contact with No 1 Aston Martin which resulted in the first safety car of the race. Howard had to enter the pit and lost a lap as a tyre was changed this resulted in them dropping to twenty-fifth place.
Forty-five minutes in and the No 13 Ferrari stopped on track and resulted in another safety car one lap after it returned back to the pits from the first incident. During the safety car laps, No 46 Ginetta came off track once again and had to be recovered to the garage but was able to continue the race.
After the wave of pit stops and half race distance completed the lead changed to no 63 Porsche ahead of No 4 Aston Martin, third was No 5 Aston Martin.
There was further drama for Team Triple Eight when No 8 BMW had changed drivers but encountered a problem and dropped from the front of the field to the back and not being able to complete the race. The same happened to No 17 Bentley who had to drop out of the race due to gearbox issues.
With only fifteen minutes of racing left the race was lead by No 63 Porsche, No 31 Porsche, No 4 Aston Martin, No 5 Aston Martin and No 29 Ferrari.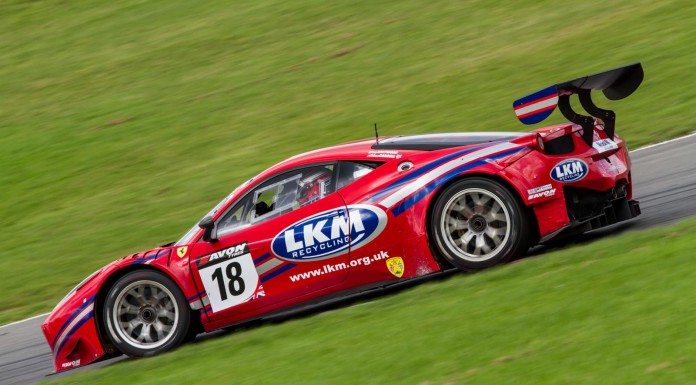 With only six minutes of racing left the leader headed into pits with a puncture and smoke coming from the car. The lead was then taken over by No 31 Porsche driven by Tandy. No 4 Aston Martin in second and No 5 Aston in third. This last minute problem led No 63 to re-join in tenth place but finishing ninth overall and handing a bigger championship lead to Marco Attard ahead of the last round in two weeks time at Donington Park.
The race was won by No 31 Trackspeed Porsche driven by Nick Tandy and David Ashburn. The final two steps on the GT3 Podium went to No 4 Oman Racing Aston Martin and No 5 Motorbase Aston Martin. The GT4 class was won by No 407 Beechdean Aston Martin, second went to TF Sport No 4 Aston Martin and third went to No 48 Ginetta.
David Ashburn, #31 Trackspeed Porsche 911 GT3 R
"What a crazy race! At the start, I just tried to stay out of trouble, because I knew it would be tight with the number of cars we have around this track. I kept up with the car ahead and held my position – I knew that if I handed over in a good place we had a chance with Nick to take over. It's nice to come back and feel so at home again! I'm upset for Jon and Phil, though, because they earned the win but were robbed by some cruel luck."
Nick Tandy, #31 Trackspeed Porsche 997 GT3 R
"It was a great comeback. We had the fastest lap in qualifying, and we won the race, but we were all set for a one-two finish for the team, but as soon as we got past the two Motorbase cars I radioed through and said 'Yep, no problem we'll just finish in formation', stay behind obviously as they need the championship points. But with their retirement it's a big downer for the team. The team love winning races, yes, but Trackspeed are here to win a championship.
"It's sweet for now, and it's sweet for our car, but it's a bittersweet victory. But we won the race, so obviously from my point of view it's very good and it's good to be back. David was amazing, he's been faster in the car than he was last year. He drove a perfect stint. We were fortunate with the safety car coming out, towards the end, it was perfect."