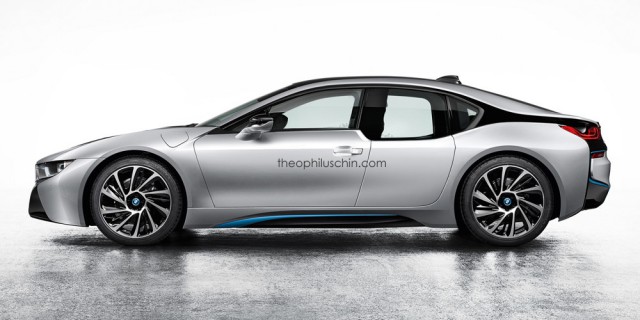 The only new BMW i8 variant believed to be on the cards at the moment is a Spyder version. The German marque ruled out an i8 M not too long ago so it doesn't seem as though too many i8 derivatives will reach the market.
Not dissuaded by this fact, Theophilus Chin has decided to render how a four-door version of the i8 could look. Rather than using traditional rear doors, Chin has added a set of small suicide doors similar to those from the Mazda RX-8 and more recently, the BMW i3.
Leave us you thoughts on the creation below.
As a reminder, the BMW i8 is of course the second model from BMW's new BMW i-Series. It is intended as a sports car and provides a forward-looking, revolutionary interpretation of BMW's hallmark driving experience. It is a 2+2-seater with a design that BMW refer to as LifeDrive architecture. It gets a "life module" passenger cell made from carbon-fibre-reinforced plastic (CFRP), as you would expect from any premium sports car. Total weight is just 1,490 kg, bearing in mind the plug-in hybrid architecture.
The production-spec i8 was of course revealed to the public last year at the Frankfurt Auto Show with production commencing in April. The drive system utilises a brand new three-cylinder petrol engine with BMW TwinPower Turbo technology. From 1.5 litres, the i8 manages an output of 231 hp, a maximum torque of 320 Nm. Power is sent to the rear wheels via a six-speed automatic gearbox. The petrol engine is supplemented by an electric motor with an output of 131 hp and maximum torque of 250 Nm. The power from this lithium-ion high-voltage battery is channelled through the front wheels via a two-stage automatic transmission.
The combinations mean that the BMW i8 is able to produce 362 hp maximum power and 570 Nm of torque. Performance is 0 to 100 km/h in 4.4 seconds with both engine and electric motor engaged. The BMW i8 manages economy figures of 2.5 litres per 100 km or 113 mpg in imperial measurements.
[Via Theophilus Chin]