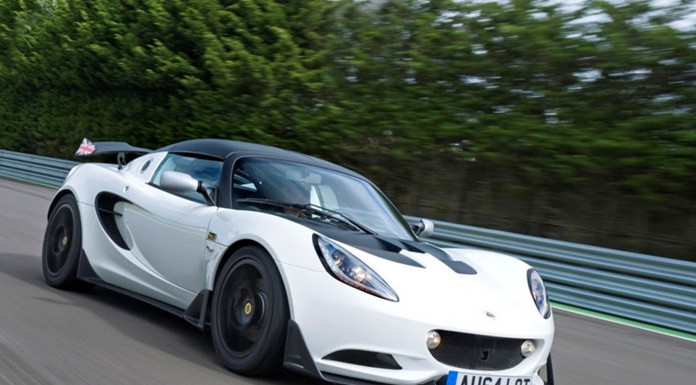 After being spied testing on the Nurburgring Nordschleife on multiple occasions, the wraps have officially been taken off the 2015 Lotus Elise S Cup. Created as a road-going variant of the Elise S Cup R racer, the hardcore Elise is the most potent the company has ever offered for street us.
Powering the 2015 Lotus Elise S Cup is the same 1.8-litre supercharged four-cylinder engine as the Cup R race car. As a result, it produces an identical 217 hp at 6800 rpm as well as 184 lb-ft of torque at 4600 rpm. Thanks to these figures and the meagre overall weight of the Elise S Cup (just 932kg), it can rocket from zero to 96 km/h (60 mph) in just 4.2 seconds as well as a top speed of 225 km/h!
From a visual and aerodynamic front, the Lotus Elise S Cup is essentially identical to the Cup R. As a result, it features the same revised front bumper including the addition of a massive carbon fibre front splitter, new side skirts helping to provide additional downforce, lightened sports wheels and more. Those wheels measure 16-inch at the front and 17-inch in the rear and feature 175/55 ZR16 and 225/45 ZR17 Yokohama Advan Neova tyres respectively. At the back, the same rear wing as the Cup R is featured as is the massive rear diffuser and centrally exiting tailpipe.
This kit helps add an extra 66 kg of downforce at 160 km/h as well as 125 kg of additional downforce at the car's 225 km/h top speed. Thanks to these additions as well as the potent little engine, it laps the small British automaker's test track a full three seconds faster than the Elise S.
One key area where the road car differs however is that it is wearing standard Lotus Elise headlights. By comparison, the track-only special features completely black headlights because it doesn't need them. A road-going example does of course. Finally, the production car doesn't feature the racing livery of the Cup R.
Discussing the 2015 Lotus Elise Cup S, the company's boss Jean-Marc Gales said, "The Lotus Elise S Cup is all about the pure driving experience with the Lotus attributes of high performance, light weight and excellent ride and handling. It is perfect for the driver who desires a quick, authentic, desirable and competitive sports car."