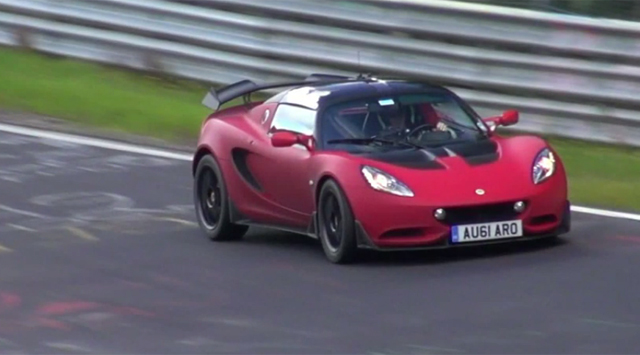 The potential Lotus Elise R spied testing at the Nurburgring recently has now been filmed tackling the famous German racetrack and has us even more excited for what Lotus has up its sleeve!
Last year, the wraps were taken off the 2014 Lotus Elise S Cup R. Created as a track-only variant of the Elise to compete in the Lotus Cup racing series held in countries like the U.S, U.K, Japan and China, the model demonstrated that the British manufacturer was far from finished creating special Elise versions. This particular model is speculated to be a road-going version of the Elise S Cup R simply dubbed the Lotus Elise R.
[youtube]https://www.youtube.com/watch?v=ZWMghx2F9o8[/youtube]
As the video shows, this prototype features many of the same design elements as the Elise S Cup R. For example, it features the revised front bumper including the addition of a massive carbon fibre front splitter, new side skirts helping to provide additional downforce, lightened sports wheels and more. At the back, the same rear wing as the Cup R is featured as is the massive rear diffuser and centrally exiting tailpipe.
One key area where this prototype differs however is that it is wearing standard Lotus Elise headlights. By comparison, the track-only special featured completely black headlights because it doesn't need them. A road-going example does of course. Finally, this prototype doesn't feature all the racing livery of the Elise S Cup R and is instead finished in a nice shade of matte red.
Despite all the changes adopted by the track-only Lotus Elise S Cup R, it tips the scales the scales at just 2037 pounds. Over a 3 mile lap, Lotus believes the Elise S Cup R can lap around 4 seconds faster than the regular Elise S. Under the hood, it delivers 217 hp and 184 lb-ft of torque from the 1.8-litre supercharged four-cylinder engine with power fed to the rear wheels via a six-speed manual transmission.
If Lotus is indeed working on a road-going version of it, expect it to remain mechanically identical.