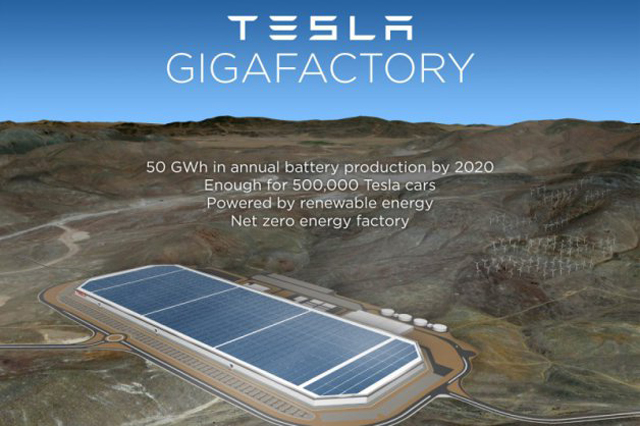 Tesla Motors has officially confirmed that its lithium-ion battery gigafactory will indeed be constructed outside Reno in Nevada. This follows on from reports yesterday indicating that the factory would indeed be located in Nevada after the Californian-based considered numerous other American states for the facility.
It is believed that Tesla and the state have a deal which over 20 years, will be worth $1.2 billion and it is reported that Tesla will be able to operate there tax-free for ten years. The deal will see figures like $725 million for a 100 per cent sales tax abatement for 20 years as well as $332 million for a 100 per cent property tax abatement over 10 years. Additionally, the gigafactory will receive discounted electricity rates valued at $8 million across eight years.
In July, Tesla confirmed that it had teamed up with Panasonic for the gigafactory. It is being suggested that Panasonic will invest between $194 million and $291 million (20-30 billion yen) to supply the machinery for cell production. In the end through, the electronics firm could pay about $1 billion of the expected $5 billion construction costs.
While construction of the gigafactory gets under way, Panasonic is set to continue to provide batteries for Tesla. That means that the Tesla Model S as well as the upcoming Model X will utilise Panasonic supplied batteries in the future.
After this, it is hoped that the gigafactory will be fully functional from 2018 onwards with construction on the massive project likely to take place later this year. The gigafactory will double the world's supply of lithium-ion batteries.
The entry-level Tesla Model 3 will be the first Tesla model to use batteries produced in the gigafactory and is a key reason behind the facility being created. Elon Musk believes the cost of batteries will drop by at least 30 per cent for the Model 3 which will allow the car to cost around $35,000 while having a 200 mile range.
[Via Autoblog Green]