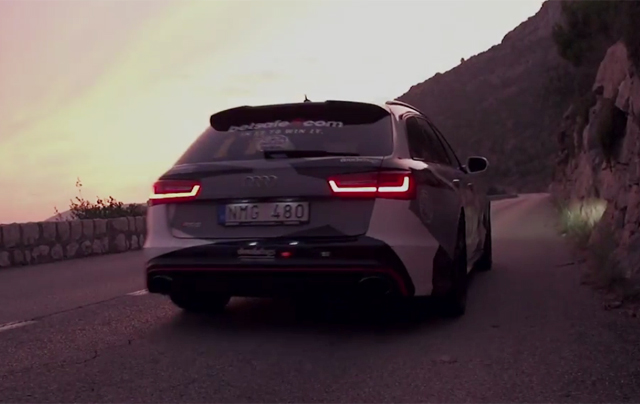 We've been lucky enough to experience Jon Olsson's awesome Milltek exhaust equipped Audi RS6 first hand before so we know all too well just how good it sounds. For those who haven't heard it however, Olsson recently hit the hills in his RS6 during a recent video blog to demonstrate just how incredible the car sounds!
[youtube]https://www.youtube.com/watch?v=BaMU8Ktxh6g#t=165[/youtube]
On top of the exhaust, Olsson's RS6 Avant also features a unique grey, black and white camouflage wrap and is rolling on lowered suspension courtesy of H&R. When originally taking delivery of it, Jon revealed it was the most impressive car he'd driven with the exception of the incredible Koenigsegg Agera R!
At the heart of the 2014 Audi RS6 Avant is a new uprated twin-turbo version of the 4.0 V8 TFSI engine also found in the S6. The engineers at Quattro GmbH, the company responsible for the RS models, managed to squeeze out another 140 hp, lifting its output to a more than impressive total of 560 hp.
Audi has made downsizing one of the cornerstones of its strategy and with success. The 560 hp is available between 5,700 and 6,700 rpm. A constant 700 Nm of torque are available between 1,750 and 5,500 rpm. Because the high-revving four-litre engine has been rigorously designed for low load-change and flow losses, it develops this power quickly and spontaneously.