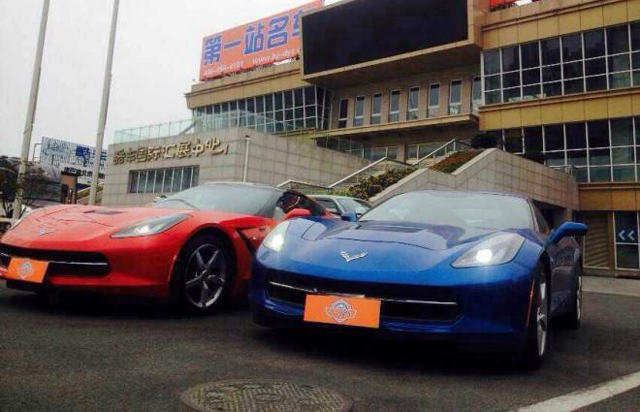 General Motors has yet to confirm whether or not it will make the C7 Chevrolet Corvette Stingray available in China. This hasn't dissuaded some enthusiasts from importing the latest and possibly greatest new American sports car to China but unsurprisingly, grey market Corvettes aren't cheap.
As a matter of fact, a red and blue grey import Corvette Stingray duo recently arrived in China and they cost quite comfortably more than five times what the Corvette does in America. As a matter of fact, the red example has an asking price equivalent to $282,000 while the blue example is going for $273,000. By comparison, an entry-level Corvette can be purchased in the U.S. from as little as $53,000!
According to Car News China, the latest Chevrolet Corvette Stingray has yet to arrive in the country due to the government. They reportedly want green cars to flock the streets and thanks to its mighty naturally aspirated 6.2-litre V8 engine, the Corvette Stingray is far from a green car.
Under the hood, the latest entry-level Corvette produces a very impressive 455 hp. Initially available with a seven-speed manual gearbox and a six-speed auto, a brand new eight-speed auto recently replaced the latter for the 2015 model year. It sees both performance and efficiency improvements over the six-speed.
[Via Car News China]