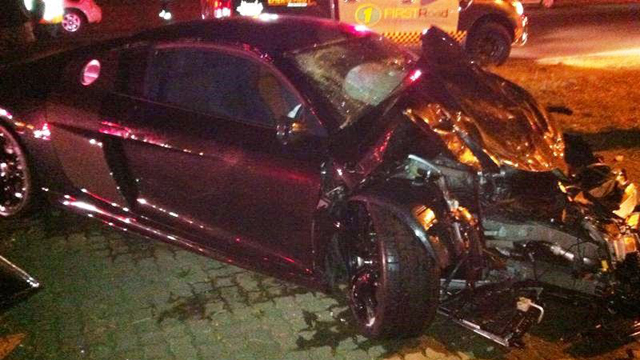 An Audi R8 GT has been absolutely destroyed following a high speed crash with a Range Rover Evoque in Johannesburg, South Africa.
Unlike many supercar crashes where the exact cause is unknown, it has been confirmed that the owner of the R8 GT ran a red light and T-boned the Evoque as it passed through the intersection. Immediately following the crash, the Audi R8 GT driver fled the scene.
Both the Range Rover Evoque and the R8 GT were deemed write-offs at the scene and it is easy to see why. The front end of the R8 has been completely wrecked in the collision with the windscreen also breaking. The Evoque was also severely damaged on the side due to the impact and the driver was transported to a local hospital and is in a stable condition.
[Via Zero2Turbo]