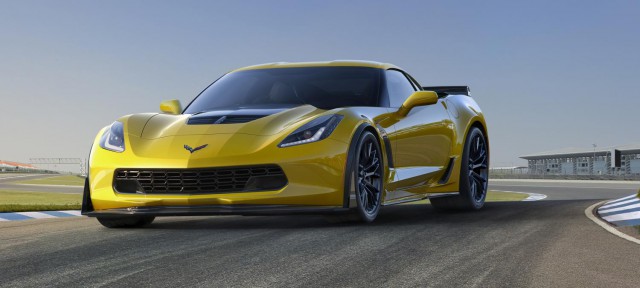 Pricing for the 2015 Chevrolet Corvette Z06 coupe and Convertible have just been revealed and as we suspected, the American supercar represents extraordinary performance for the money.
The Corvette Z06 hardtop starts at $78,995 while the convertible model starts at $83,995. As for some of the most important optional extras, they too are quite reasonably priced. For example, the carbon fibre ground effects package costs $2995 and adds a host of downforce generating components to the car. It has been featured on all display C7 Z06s displayed publically so far.
Elsewhere, the Z07 Performance Package is available for $7995. It adds Brembo carbon ceramic brake rotors as well as the ground effects package and Michelin Pilot Super Sport Cup tyres.
Discussing the car, Corvette product and marketing manager Harlan Charles said, "The 2015 Corvette Z06's performance and technical capabilities place it in the elite fraternity of supercars. Very few cars in the world deliver 650 horsepower, true aerodynamic downforce, carbon fiber and performance technologies such as Magnetic Ride Control, Performance Traction Management and an electronic limited slip differential – and none gives the driver a transmission choice or the choice of a coupe with a removable roof panel or a full-power-top convertible.
"The Z07 performance package enhances overall performance to make the Corvette Z06 one of the most track-capable cars you can buy off the dealership floor and still drive it to work every day," said Charles.
Both the 2015 Chevrolet Corvette Z06 and the Corvette Z06 Convertible feature the same engine. That engine is the new LT4 6.2-litre supercharged V8 delivering 650 hp and 650 lb-ft of torque. Both models also utilise direct fuel injection, Active Fuel Management (cylinder deactivation) and continuously variable valve timing.
This engine can be mated to either the brand new 8L90 eight-speed automatic transmission or alternatively, a seven-speed manual with rev-matching technology for upshifts and downshifts.