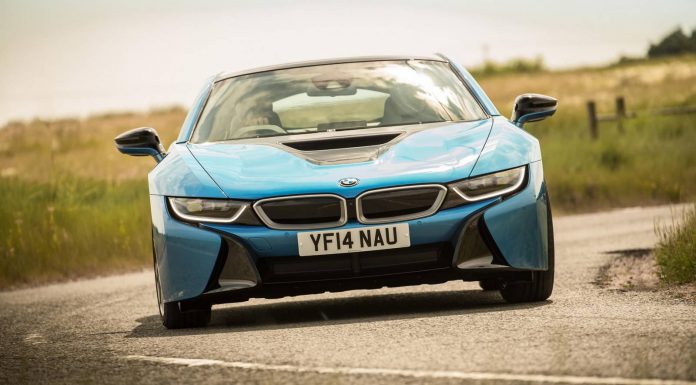 Without a similarly-powered rival on the market, the BMW i8 truly is in a class of its own. While it is always risky to be the first of your kind, the i8 is proving to be extremely popular among customers and dealerships are cashing in on this fact.
Despite the hybrid sports car being sold out for the first year, dealerships are still offering the car much quicker than that if the right price is given. As a matter of fact, some dealerships are said to have sold i8s at $100,000 over the sticker price which is almost 75 per cent more than the retail price. Elsewhere, dealerships are charging between $50k and $75,000 extra.
The BMW i8 is of course the second model from BMW's new BMW i-Series. It is intended as a sports car and provides a forward-looking, revolutionary interpretation of BMW's hallmark driving experience. It is a 2+2-seater with a design that BMW refer to as LifeDrive architecture. It gets a "life module" passenger cell made from carbon-fibre-reinforced plastic (CFRP), as you would expect from any premium sports car. Total weight is just 1,490 kg, bearing in mind the plug-in hybrid architecture.
The production-spec i8 was of course revealed to the public last year at the Frankfurt Auto Show with production commencing in April. The drive system utilises a brand new three-cylinder petrol engine with BMW TwinPower Turbo technology. From 1.5 litres, the i8 manages an output of 231 hp, a maximum torque of 320 Nm. Power is sent to the rear wheels via a six-speed automatic gearbox. The petrol engine is supplemented by an electric motor with an output of 131 hp and maximum torque of 250 Nm. The power from this lithium-ion high-voltage battery is channelled through the front wheels via a two-stage automatic transmission.
The combinations mean that the BMW i8 is able to produce 362 hp maximum power and 570 Nm of torque. Performance is 0 to 100 km/h in 4.4 seconds with both engine and electric motor engaged. The BMW i8 manages economy figures of 2.5 litres per 100 km or 113 mpg in imperial measurements.
[Via BMW Blog]