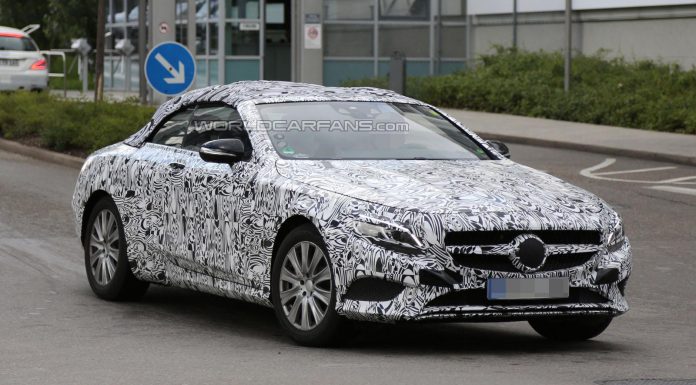 The upcoming Mercedes-Benz S-Class Cabriolet has been spied under heavy camouflage while testing in Germany. This will be the first time the S-Class has ever been available in Cabriolet configuration and when the car does launch, it will essentially be in a class of its own with the less technically advanced Bentley Continental GTC and Rolls-Royce Phantom Drophead Coupe and upcoming Wraith Cabriolet being its closest rivals.
Despite the S-Class Cabriolet inevitably wearing a high price tag, Mercedes-Benz seems to have opted for a retractable soft top for the car rather than a hardtop. Either way, the engineers at Mercedes-Benz are inevitably working their magic to ensure the soft top doesn't interrupt the stunning lines of the two-door S-Class variant.
Beyond the addition of a soft top, the Mercedes-Benz S-Class Cabriolet should remain mechanically identical to the S-Class Coupe. As a result of this, we expect to see both S63 AMG Cabriolet and S65 AMG Cabriolet models. The former will likely utilise a twin-turbocharged 5.5-litre V8 engine delivering 575 hp and 664 lb-ft of torque while the S65 AMG Cabriolet should pump out 620 hp and 737 lb-ft of twisting power.
In the cabin, expect all the luxuries present on the S-Class sedan and coupe as well as their advanced vehicle technologies including Magic Body Control.
[Via World Car Fans]