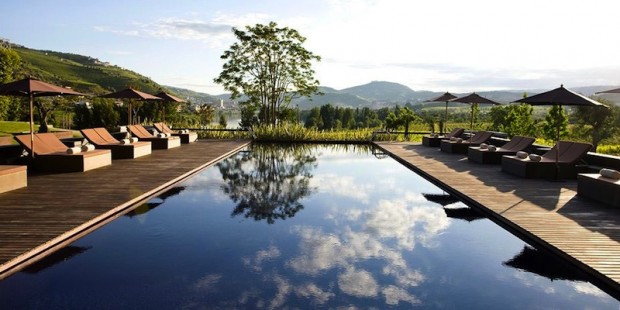 Six Senses is on the verge of opening its very first hotel in Europe with the opening of the Six Senses Douro Valley in the spring of next year. The stunning hotel will be in Portugal's famous wine country and help bring the luxury and exclusivity of the Yao Noi Six Senses we visited last year and rated as our top hotel tip for 2014.
The Douro Valley is actually a UNESCO World Heritage site. The resort will cover a total of 19 acres and feature 71 guest rooms and suites ranging from the smaller Valley, Spa and River rooms to the more spacious suites and villas complete with one, two and three bedrooms each.
The facility will also host an incredible Six Senses Spa measuring over 2,200 square metres complete with 10 individual treatment rooms. The unique spa incudes a menu of locally-inspired therapies many of which incorporate wine in some way. Within the spa there will also be the Six Senses Visiting Practitioner Program which features over 100 of the world's best wellness healers, practitioners and experts.
A large restaurant serving all day will also be featured with lots of fresh produce coming straight from the resort's own gardens.
Six Senses Douro Valley will be located just 33 kilometres from Vila Real Airport and 142 km from Porto International Airport.