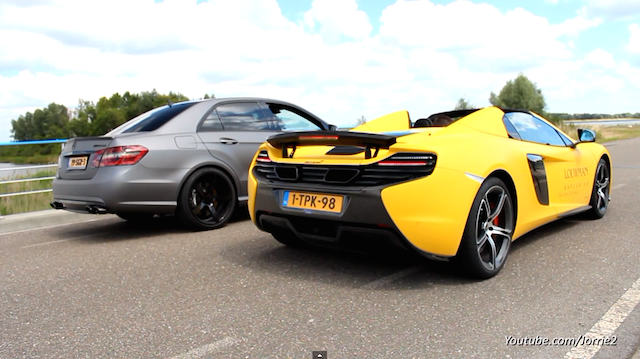 We love a good rev battle here at GTspirit and this may be one of the interesting yet. iPE construct some of the loudest and most aggressive exhaust systems we have ever heard. This Mercedes-Benz E 63 AMG would have sounded great when stock, but having been fitted with an iPE system, it sounds sensational!
[youtube]http://youtu.be/geJvw3EzrNI[/youtube]
Compared to the E 63 AMG's brutal naturally aspirate 6.2-litre V8 , the McLaren 650S features the same 3.8-liter twin-turbocharged V8 engine as the 12C. However, McLaren have managed to squeeze out 642 hp and 678 Nm of torque improving acceleration, responsiveness and overall top speed. 0-100 km/h (62 mph) acceleration now takes only 3.0 seconds (coupe) and 0-200 km/h (125 mph) only 8.4 seconds. These two V8s certainly sounds great but both are very very different!