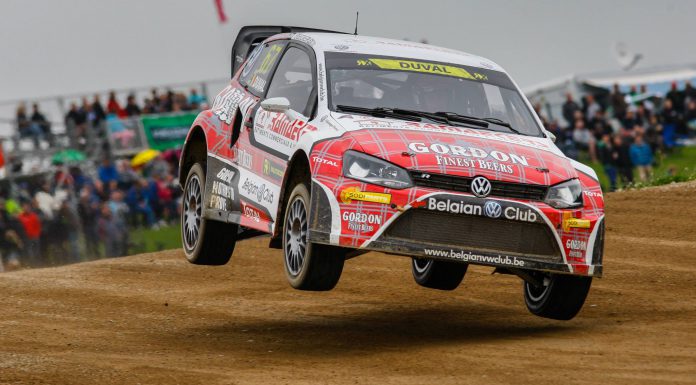 The sixth round of the 2014 FIA World Rallycross season took place in Belgium this past weekend. The round saw a sixth different winner signifying that the competition is not only tight but spontaneous too. Topi Heikkinen behind the wheel of a Marklund Motorsport Polo RX Supercar won the race in front of an estimated 25,000 spectators in Mettet Southern Belgium. Just like this new FIA World RX championship, the Jules Tacheny Circuit was also new.
Team Peugeot Hansen driver Timmy Hansen finished the race in second place ahead of Johan Kristofferson who was driving a VW Polo. Veteran Peter Solberg suffered broken suspension components while making a run for a podium finish. He finished in fourth but still managed to gain points which now place him at the top of the drivers' standings. He has a total of 125 points, just 3 points ahead of Reinis Nitiss.
Anton Marklund finished in fifth place in his VW Marklund while EKS RX driver Pontus Tidemand rounded off the top six in his Audi S1 Supercar. His teammate Edward Sandstrom who had entered the race through a wildcard missed the finals narrowly. Among those who suffered car problems was the Monster Energy World RX Team of Liam Doran and Davy Jeanney with an intercooler failure kicking them out of the finals.
Likewise, Team Championship leaders Ford Olsbergs MSE also encountered a series of problems. Andreas Bakkerud was the first victim to retire his Ford Fiesta Supercar, Nitiss nursed a torn rear tire before getting knocked off in the semi finals. Meanwhile, Belgium's Filip Baelus won the Touring Category in his Volvo C30 while Janis Baumanis took the win in the Super1600.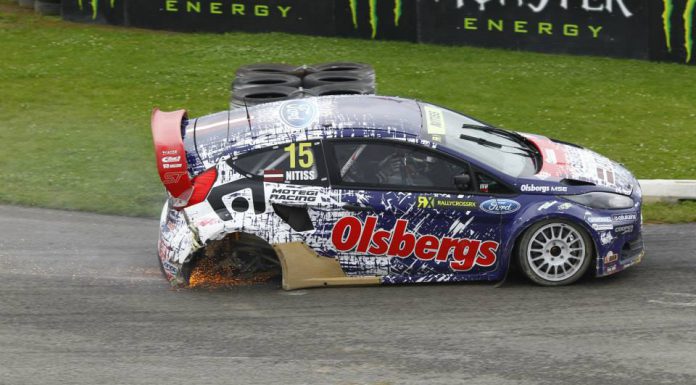 The drivers will now take a short break before resuming for the second half of the season in Canada for round seven at Trois-Rivieres.
Martin Anayi, World RX Managing Director for IMG Motorsport, concluded:
We couldn't have asked for a more exciting opening half to the season for our inaugural year as a World Championship. We've had six different winners with four different manufacturers and now only eight points separate the top three drivers. It's also been fascinating to witness three different Championship leaders already this year and now we have round one winner Petter back at the top of the standings proving once again that points matter just as much as winning races. Volkswagen Marklund's outstanding performance this weekend has also seen the outfit close in on Ford Olsbergs in the overall battle of the teams. It's been a pleasure to visit Mettet this weekend – the team in Belgium have done a terrific job and played a crucial role in attracting more than 20,000 fans to the circuit this weekend. It's been wonderful to be involved in the growing popularity of World RX over the past six months – we're extremely lucky to have what I believe are some of the most talented drivers in the world and with more broadcasters starting to televise our Championship, the future of the sport is looking very bright indeed.