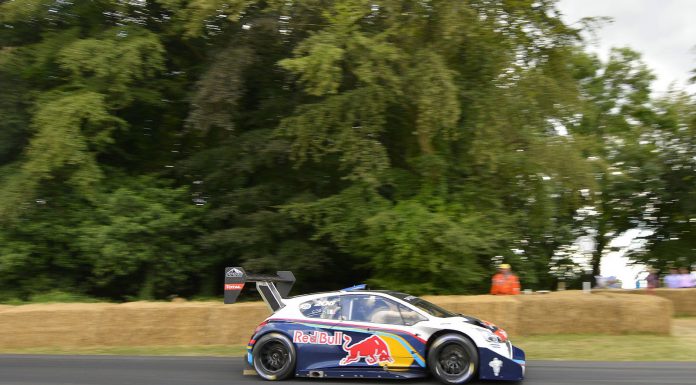 Sebastien Loeb set the fastest time at the annual Goodwood Festival of Speed Sunday shoot-out behind the wheel of his record-setting Peugeot 208 T16 Pikes Peak racing car.
The hugely successful racing driver managed to sprint up the hillclimb in a mere 44.6 seconds therefore setting the sixth faster time ever up the hillclimb. You may remember last year that the Peugeot 208 T16 Pikes Peak also set the fastest time then with Gregory Guilvert behind the wheel tying first place with Nick Heidfeld's Lola B12/60-Toyota in 45.86 seconds.
This year, Loeb's nearest competitor was former GT1 World Champion Michael Bartels who behind the wheel of a special Maserati MC12 was 1.22 seconds off the pace. The all-time record is held by Nick Heidfeld in a 1999 Formula One car of 41.6 seconds!
Powering the Peugeot 208 T16 Pikes Peak is a mid-mounted bi-turbo V6 engine from the Peugeot 908 racer powering all four wheels. This potent powerplant delivers an insane 875 hp and only has to shift 875 kg of weight, meaning the Peugeot 208 T16 Pikes Peak has exactly one horsepower per kilogram. Thanks to the massive power and tiny weight, Peugeot claims the 208 T16 Pikes Peak can hit 100 km/h in just 1.8 seconds, 200 km/h in 4.8 seconds and it's top speed of 240 km/h in just 7 seconds.
During Goodwood, we had the awesome opportunity to go for a ride in a Mercedes-Benz SLS AMG Black Series. For more photos check out the Goodwood Supercar Hillclimb Gallery, Cartier Concours Lawn Gallery and so much more Goodwood Festival of Speed 2014!