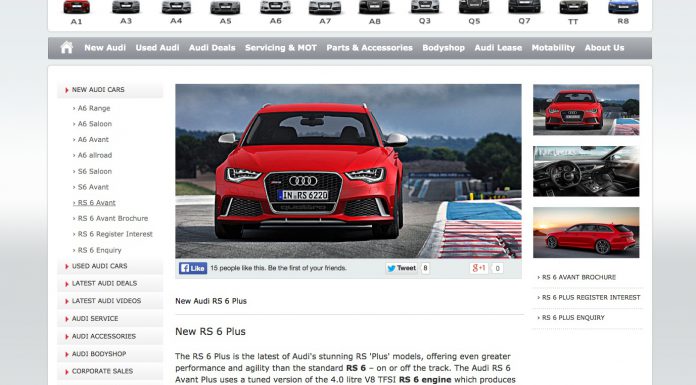 Earlier this year, Audi confirmed that a more powerful version of the 2014 Audi RS6 Avant was on the cards. Now, a U.K. Audi dealer has leaked official details about the uprated RS6 variant before quickly pulling them down again. Nevertheless, details of the new 2014 Audi RS6 Avant Plus were available long enough for the following screenshot to be taken.
Under the hood, the potent 4.0-litre twin-turbocharged V8 engine will be uprated to now deliver 600 hp, a 40 hp increase over the 560 hp of the standard car. Alongside the engine modifications, the new 2014 Audi RS6 Avant Plus will receive improved agility and handling thanks to some weight-saving measures.
GTspirit Review of 2014 Audi RS6 Avant

The final bit of information which leaked is that the new RS6 Avant Plus will be a full production model rather than the 2004 RS6 Plus which was limited to just 999 units around the world. As a result, they'll be more than enough examples of the new RS6 Avant Plus to please those with deep enough pockets to afford them!
Elsewhere, we can expect the 2014 Audi RS6 Avant Plus to receive a host of special badging as well as a few interior modifications to set it apart from the standard car.
Considering details about the car leaked from Audi itself, expect the car to be fully revealed very soon!