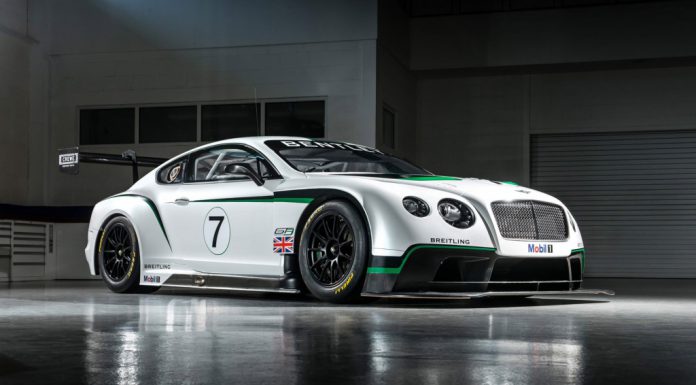 Bentley has confirmed its intentions to take its now race-winning Bentley Continental GT3 racer to next year's 24 Hours Nurburgring.
Bentley board member for engineering Rolf Frech, said: "We've been looking to compete at the Nurburgring ever since we announced our return to racing in 2012, but we knew that we had to develop and prove the capabilities of our Continental GT3 first.
"The 24-hour race at the Nurburgring is one of the toughest, but with our season of learning in 2014 and with the Continental GT3 already being a race winner [at the Silverstone Blancpain Endurance Series round last month], we feel confident in targeting the event for 2015."
Under the hood, the 2014 Bentley Continental GT3 is fitted with a twin-turbocharged 4.0-liter V8 engine producing an extremely impressive 600 hp, a 100 hp gain from the production variant. All that power is then sent straight through the rear wheels via a carbon fiber driveshaft topped off with a six-speed sequential transmission from racing-specialists, Xtrac. When combined with an overall weight of 2,866 pounds and a 52:48 weight distribution, the 2014 Bentley Continental GT3 promises to be a real competitor for the McLaren 12C GT3, Mercedes-Benz SLS AMG GT3 and of course, the 2013-spec Lamborghini Gallardo GT3.
From a suspension standpoint, the 2014 Bentley Continental GT3 incorporates double wishbones front and rear as well as four-way adjustable racing dampers. Helping to bring the car to a halt are six-piston calipers up front and four-piston calipers at the rear with ventilated iron discs.