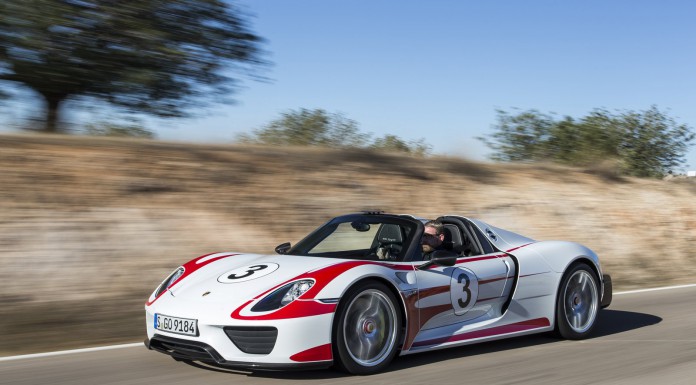 Whereas its rivals, the McLaren P1 and LaFerrari are being produced in runs less than 500 (375 for the P1 and 499 for the LaFerrari), a total of 918 examples of the Porsche 918 Spyder will be produced. But despite a price tag of $845,000, there are certainly no shortage of interested buyers with confirmation coming that two-thirds of the planned production run has been sold.
This equates to just over 600 examples and Porsche hopes that the remaining 300-odd examples will be sold within the next six to twelve months. It remains unclear just how many of examples of the 918 Spyder are already on the streets but there's no doubt as the year progresses, we'll see more and more examples around the world.
In case you didn't know, the Porsche 918 Spyder comes fitted with a mid-mounted 4.6-litre V8 engine producing 608 hp independently – the highest specific power of any naturally aspirated Porsche engine. The V8 is then supplemented by a further two electric motors mounted on each axle. The electric motors can either drive the wheels independently or work together with the engine to boost performance. Each motor produces enough power to boost the total figure to 887 hp. A seven-speed Porsche Doppelkupplung (PDK) controls power delivery to the rear wheels.
Last year, it managed to set a production car lap record for a globally road homologated car around the Nurburgring with a quick 6 minute and 57 seconds lap time!