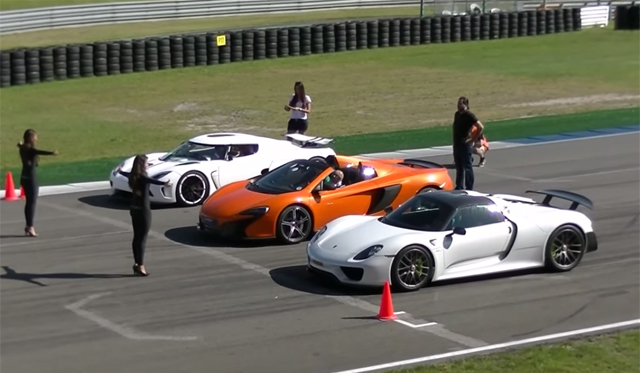 The Porsche 918 Spyder, Koenigsegg Agera R and McLaren 650S are three of the fastest accelerating cars on the planet. Under the right conditions, the 918 Spyder can reach 100 km/h in around 2.5 seconds and back in 2011, the Agera R set multiple performance records including a sprint to 300 km/h of just 14.53 seconds. Similarly, the 650S can outsprint many of its more powerful rivals.
[youtube]https://www.youtube.com/watch?v=cXLE6otus8s[/youtube]
At the absolutely epic Supercar Sunday event held in the Netherlands, some of the world's greatest cars turned out including the three aforementioned supercars. They also competed against each other in a short drag race of which the results may surprise you!
While the race isn't really representative of what the trio could do under perfect conditions, the 918 Spyder sprints off the line like it's nobody's business. For the first 20 metres or so, the Agera R is just a couple feet behind with the 650S in last. However, for whatever reason, the 650S catches and manages to pass the Agera R presumably because the Koenigsegg driver wasn't nailing it. Either way, it's a video worth watching!