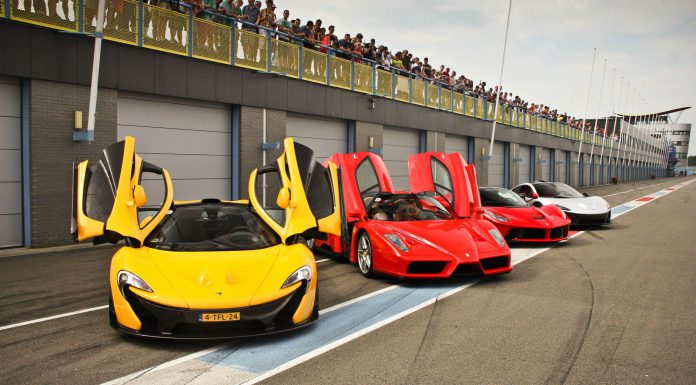 The TT Circuit in Assen has a legendary status among motor racing fans. Home to the Dutch TT since 1925, the grand old track is the longest-running event on the MotoGP calendar and has become known as the "Cathedral of Motorsport". But recently the circuit welcomed many devoted fans, not for Valentino Rossi and his colleagues, but for Supercar Sunday.
Supercar Sunday featured an impressive amount of supercars: McLarens, Ferraris, Lamborghinis, Porsches, and other great cars were present at the circuit in the northeastern Netherlands. Many cars were parked in the paddock where the public were given a chance to see these cars up close, but quite a few entered the flowing circuit as well. Among other cars in attendance were Ferrari Enzo, Ferrari F40, Ferrari F12, Lamborghini Aventador, McLaren 650S, McLaren MP4-12C, Mercedes SLS AMG GT3, Porsche 911 GT3 RS, Porsche Carrera GT and much more.
The highlights were the latest generation of hypercars. Two McLaren P1s, two Porsche 918s and a LaFerrari were present in Assen, and later on the day they were also joined by a Koenigsegg Agera R. These cars hit the track and even drag raced against each other, to the great joy of the petrolheads that had gathered in great numbers. Check out the galleries for an impression of Supercar Sunday!