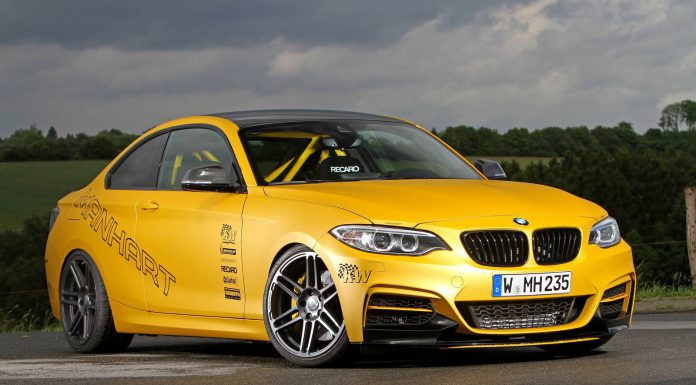 With 322 hp on tap, the BMW M235i is quite a quick car. However, the team at Manhart Performance didn't think it was quite enough and have been working hard to make the M235i an ever more capable track car. This is what they've come up with; the Manhart MH2 Clubsport!
To upgrade the engine and lift power substantially, Manhart Performance have fitted a bigger intercooler, a new sports exhaust system with custom downpipe and 200-cell sports catalysers. When it is all said and done, the Manhart MH2 Clubsport delivers an impressive 430 hp and 592 Nm of torque. While performance details haven't been released, you can be assured that the MH2 is significantly faster off the line than the standard car.
Besides the engine modifications, the Manhart MH2 Clubsport includes a KW 3-way adjustable coilover kit, new Manhart wheels measuring 19×8.5 at the front with 225/35 tyres and 19×9.5 at the rear with 255/30 Michelin Pilot Super Sport tyres.
Manhart didn't forget about the braking system and have fitted new 6-piston calipers at the front with 350 mm discs and Pagid sport brake pads.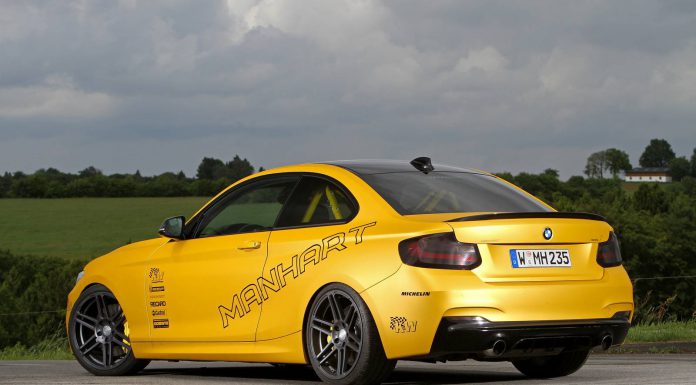 To save on weight, the interior has been stripped of any unnecessary luxuries and features a large roll cage in the rear. Completing the changes are a new front splitter, bootlid spoiler, rear diffuser and tinted taillights.