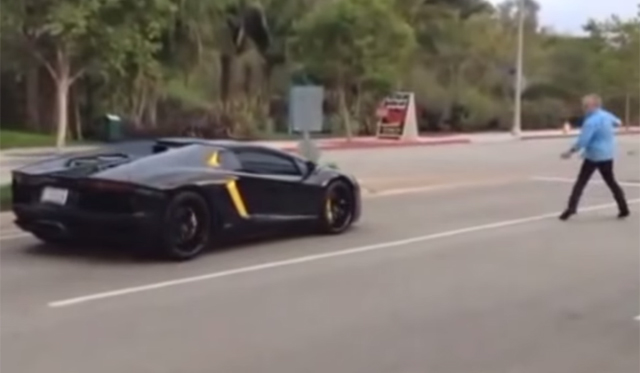 If you've ever seen a Lamborghini Aventador driving anywhere around the world, you'll inevitably see dozens on onlookers turning their heads to see it even if they're not automotive enthusiasts or petrol heads. That is how eye-catching the design and engine/exhaust note of the Aventador is. However, as the following video shows, not everyone likes Lamborghini's halo model.
It is unclear where the following video was filmed, but it shows a stunning black Lamborghini Aventador Roadster with yellow accents speeding down a typical neighbourhood street. However, a man stops the Aventador in its tracks and sarcastically screams "Keep Racing! Keep Racing!" while brandishing a large rock in his hand.
[youtube]https://www.youtube.com/watch?v=3tp_3BIgS2M[/youtube]
As the Aventador driver tries to crawl their way past the man, he suddenly throws the rock and it appears to hit the rear quarter panel of the Italian supercar with a loud crack. He then appears to reach into his back pocket for another rock and throws that just as the Aventador Roadster begins to speed away from him and down the street.
It isn't known what happened after the camera stopped rolling and if any further talks or altercations between the driver and rock-thrower resulted. Either way, hearing a rock hitting the lightweight bodywork of the Aventador is chilling.