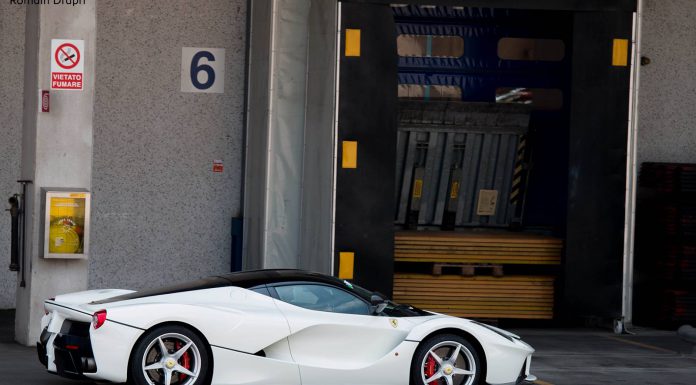 Now that the reviews of LaFerrari have begun to trickle out, we are finally seeing more of the car both on the streets and all over the internet. So far, we have seen a few colors on the electronically-assisted hypercar other than the expected Rossa Corsa, but few look as good as this Bianco Avus example spotted by GTspirit reader Romain Drapri.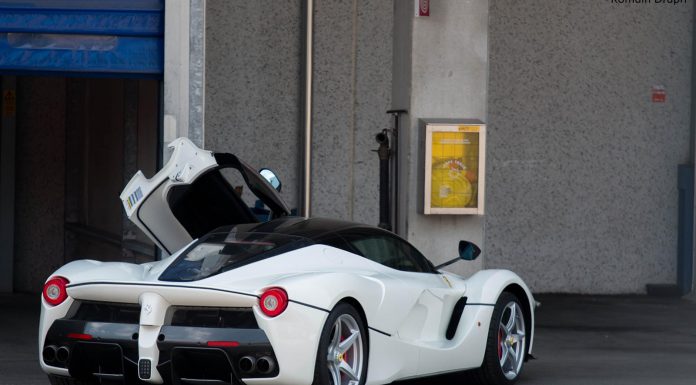 While seeing LaFerrari in any color is certainly a treat, seeing a rare white example like this is even more stunning. Unlike the Argentino Nurburgring LaFerrari which was recently spotted in Switzerland, this Bianco Avus car has the contrasting black roof option. The owner rounded out his color choices with brush silver wheels and red brake calipers.
LaFerrari is powered by a mid-mounted 6.3-liter V12 engine, which is producing 789 hp at 9000 rpm and 700 Nm at 7000 rpm. This impressive powerplant is made even more powerful by an electric motor which is good for another 161 hp and 270 Nm of torque, making for a total output of 950 hp. This of course makes the hypercar ludicrously fast, able to sprint from 0-100 km/h in less than 3 seconds, 0-300 km/h in 15 seconds and on to a top speed of over 350 km/h.