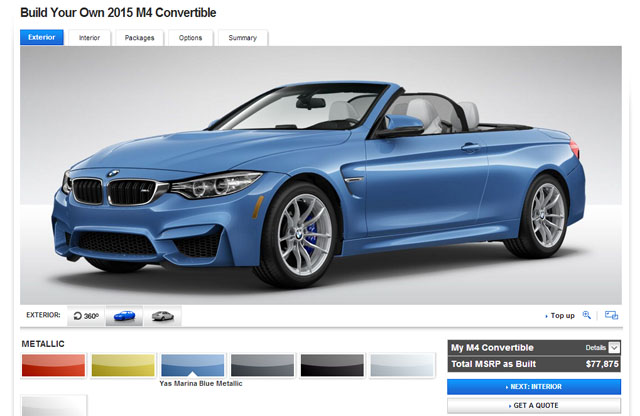 BMW USA has just launched two impressive online configurators for both the new BMW M4 Convertible as well as the new BMW 4-Series Gran Coupe. The configurators allow for a huge array of customisation from big things such as the paint down to smaller interior finishes. Try out the M4 Convertible configurator here and the 4-Series Gran Coupe one here!
Under the hood, the 2015 BMW M4 Convertible is powered by the same 3.0-liter inline six-cylinder twin-turbocharged engine delivering a brutal 425 hp and 406 lb-ft of torque. However, due to the addition of the extra reinforcement to maintain the car's rigidity when the roof is folded away, the M4 Convertible tips the scales at a hefty 1,750 kg. Compared to the 1,476 kg weight of the M4 Coupe, the drop-top is more than 250 kg heavier. However, compared to the Audi RS5 Cabriolet which weighs an insane 1,920kg, the new 2015 BMW M4 Convertible is a relative lightweight!
By comparison, the BMW 4-Series Gran Coupe is available with a mix of five petrol and diesel engines and the usual mix of fast yet frugal power plants that we are sure will suit the balance and purposeful looks of the cars exterior. The most exciting engine in the launch line-up will be the 435i, a six-cylinder in-line 3.0-liter petrol engine delivering 306 hp. All engines feature BMW's latest TwinPower Turbo technology. Excitingly, a BMW M4 Gran Coupe has been confirmed for a launch later this year.