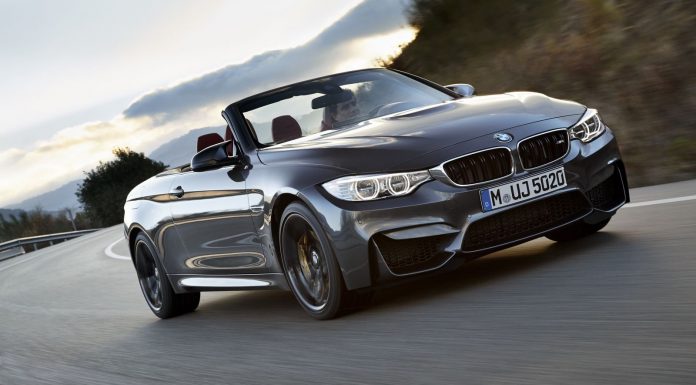 After months of speculation and spyshots, the long awaited 2015 BMW M4 Convertible has officially been revealed prior to a believed pubic debut at this month's New York Auto Show 2014. Of course, the new M4 Convertible is the first drop-top BMW has ever made dubbed an M4, but essentially, it is a successor to the previous-generation M3 Cabriolet.
Compared to its predecessor, the new BMW M4 Convertible is 56 mm longer, 65 mm wider and 4 mm lower. These new proportions really add an entirely new element of aggressiveness and purpose to the ultra-fast convertible sports car. More important than the actual measurements are the fact that its wheelbase has been increased by 52 mm.
Of course based around the standard BMW 4-Series Convertible (itself a very new car), the 2015 BMW M4 Convertible features a three piece folding metal roof which can fold in 20 seconds at speeds of up to 11 mph. Thanks to the extra size of the new M4 Convertible compared to the previous M3 Cabriolet, luggage space increases to 370 litres with the roof up and 220 litres with the roof folded away and the occupants enjoying the wind in their hair.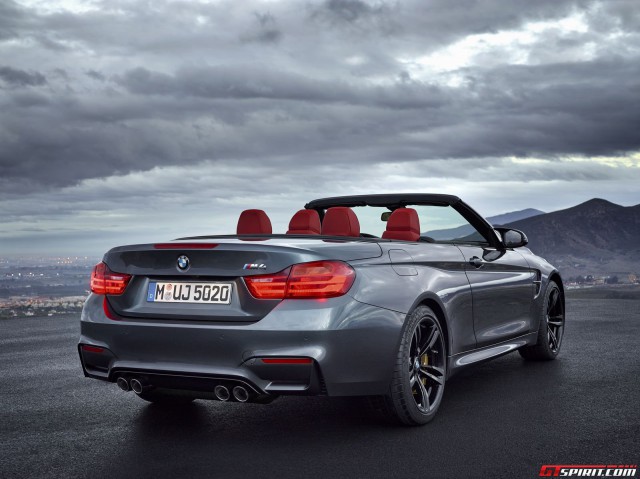 Under the hood, the 2015 BMW M4 Convertible is powered by the same 3.0-liter inline six-cylinder twin-turbocharged engine delivering a brutal 425 hp and 406 lb-ft of torque. However, due to the addition of the extra reinforcement to maintain the car's rigidity when the roof is folded away, the M4 Convertible tips the scales at a hefty 1,750 kg. Compared to the 1,476 kg weight of the M4 Coupe, the drop-top is more than 250 kg heavier. However, compared to the Audi RS5 Cabriolet which weighs an insane 1,920kg, the new 2015 BMW M4 Convertible is a relative lightweight!
As a result, performance times do suffer somewhat to the coupe. The M4 Convertible will hit 100 km/h from a standstill in 4.6 seconds when equipped with the six-speed manual transmission while the same mark will come up in 4.4 seconds with the optional seven-speed dual-clutch 'box. The M4 Convertible is limited to a top speed of 155 mph when equipped with either transmission.