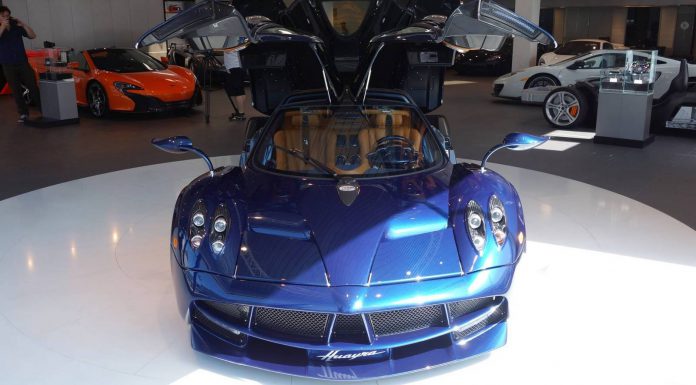 Pagani have been building and delivering their stunning Huayra's to customers for a few months now and there have been demand from continents across the globe. Here we have one of the very first Huayra's to be delivered to the United States and it has been specced with a few unique aspects.
This particular car, chassis #55, has been configured in a very alluring deep blue with silver side stripes, polished magnesium wheels with blue brake calipers and brown leather inside the cockpit. The front and rear lights surroundings, Pagani logo and other parts above the rear bumper are aluminum polished while on the other Huayras are matt grey or anodised. This car features the very poplar track pack but unusually the front splitter and rear bumper are not left as bare carbon but instead the same colour as the body.
We have driven this V12 monster on more than one occasion and in both instances it blew our minds like never before. The Pagani Huayra Carbon Edition is powered by a 6.0 liter Mercedes-AMG twin-turbo V12 engine which puts out a whopping 700 horsepower and 1,000Nm of torque. Thanks to this, the Huayra is able to blast itself from standstill to 100km/h in 3.3 seconds, while its top speed is an impressive 370km/h.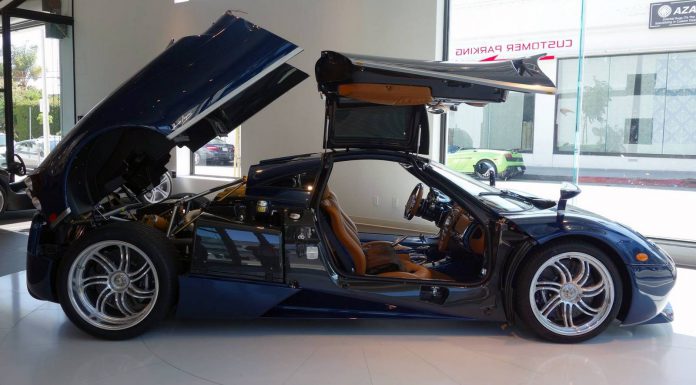 [Photos by The Petersen Automotive Museum]