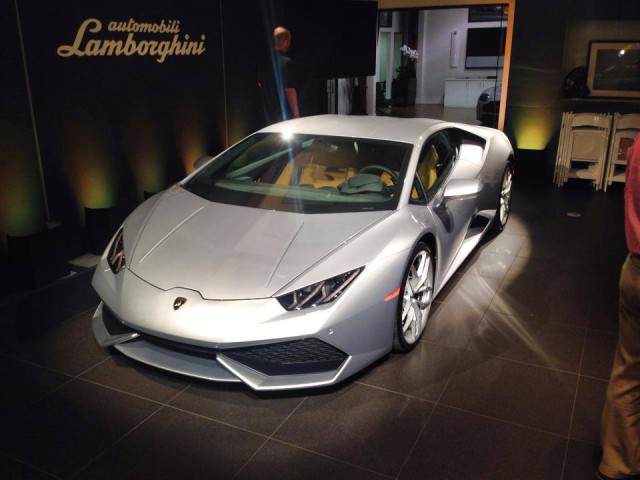 With customer deliveries of the Lamborghini Huracan set to commence very shortly, dealerships around the world have begun to receive early Huracan orders and the latest is Lamborghini Newport Beach which has taken delivery of this stunning silver example.
Offsetting the paint job is a yellow/tan leather interior and inevitably, this Huracan will soon go to a very happy customer!
As you probably already know, under the hood, Lamborghini Huracan features a brand new 5.2-liter V10 engine delivering 602 hp. As a result of this, the Huracan can hit 100 km/h in just 3.2 seconds and a top speed of 202 mph. Mated to this engine is a new dual-clutch semi-automatic transmission driving all four wheels.
Additionally, the Lamborghini Huracan features a dramatically different chassis than the Aventador which is a complete carbon fiber monocoque. By comparison, the Huracan features a rear bulkhead and transmission tunnel constructed from resin transfer mould carbon fiber while the rest is made up of an aluminium space frame. This is the same hybrid chassis set to be utilised on the next-generation Audi R8. The chassis weighs 10 per cent less than the Gallardo's but is 50 per cent stronger.
For more about the Lamborghini Huracan, be sure to check out our review of it from the Ascari circuit!