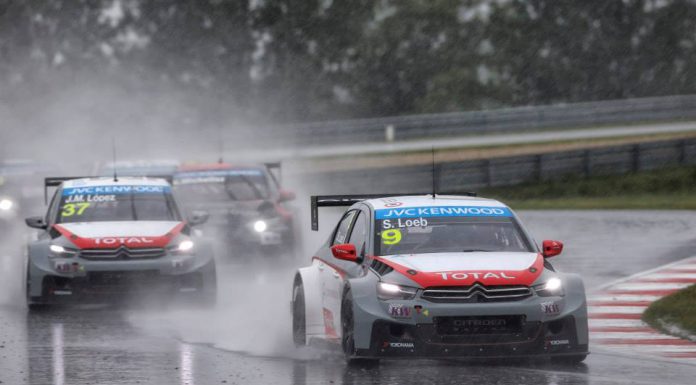 Sebastian Loeb took his second WTCC win at the Slovakia Ring this weekend in a rain shortened race that ended after 8 laps. Loeb started in P2 but managed to snatch the lead from his teammate and pole-starter José María López. It was a 1-2 finish for Citroen again as Lopez finished in second. Honda was third with Norbert Michelisz on the wheel, he was followed by Chevrolet RML cars of Coronel, Chilton and Morbidelli.
The safety car had been deployed in Lap 7 due to the heavy rain, the race was later red-flagged after two laps. As a result, Race 2 was cancelled, this was the first time a race was cancelled in WTCC since its revival in 2005. Despite the shortened race, the 8 laps were enough to count for 75% of the planned distance and also sufficient to give points to drivers and manufacturers.
Drivers' Quotes
Sébastien Loeb: I am happy of winning after a difficult start of the weekend. I did not think it was possible to make it to row one on the grid, but that proved essential on a day like this. I took a better start than Pechito and then it was a matter of staying on the track and using the advantage of better visibility. It was really raining a lot and conditions were changing from lap to lap in almost every corner. I think it was a good decision to stop the race, as it was becoming really wet and risky and we would have probably lost three quarters of the grid before the finish.
José María López: I am not unhappy with second, as it is an excellent result towards the championship situation and consistency throughout the season will be key. For sure, I did not take a good start. I didn't do a real mistake, it was simply not a good start and maybe this is my weakest point, something I have to work on. In the race, Seb was faster in some portions and me in others, but in such conditions you couldn't do much.It was wise to stop the race.