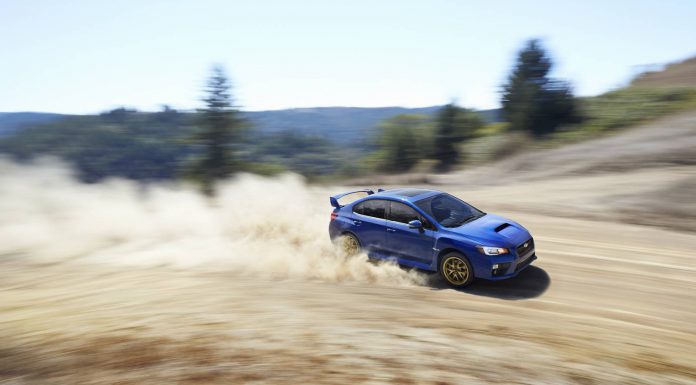 Subaru has announced plans to break its current lap record of the world famous Isle of Man TT course in a 2015 WRX STI in an attempt to prove the prowess of the performance saloon. The current record, standing at 19 minutes and 56.7 seconds, was set by rally ace Mark Higgins in 2011 behind the wheel of a third-generation WRX STI.
Mark Higgins will return as the driver for this record attempt, which is set to take place later this month. The 2015 WRX STI he will use is a standard US specification production car with an unmodified 295 horsepower 2.5-liter turbocharged Boxer engine and road-legal tires. The springs and dampers will be slightly adjusted to accommodate for the many bumps, dips and jumps the car will come across on the course at high speed. It is also equipped with standard racing safety features like a roll-cage, racing harnesses and a fire suppression system.
Higgins made viral fame from a video of his record setting attempt in 2011, but the real subject of discussion was his amazing crash avoidance abilities when he nearly pitched the car into a wall at the bottom of Bray Hill at 150 mph.
"Setting the record was totally exhilarating and one of the highlights of my career – Bray Hill certainly added to the thrill! As a Manxman, I love the TT Races and I have a huge amount of respect for the TT riders and what they do. It will be a real honour to attempt a new fastest car lap," Higgins said in a statement.
Subaru will make their record attempts over three-timed runs under closed conditions on Saturday 31 May, Monday 2 June and Wednesday 4 June. The announcement comes not long after the automaker revealed the 2015 WRX STI will go on sale in the UK in May with prices starting at £28,995.